Susan K. Moore
Portrait Artist, Silk Painter
and Author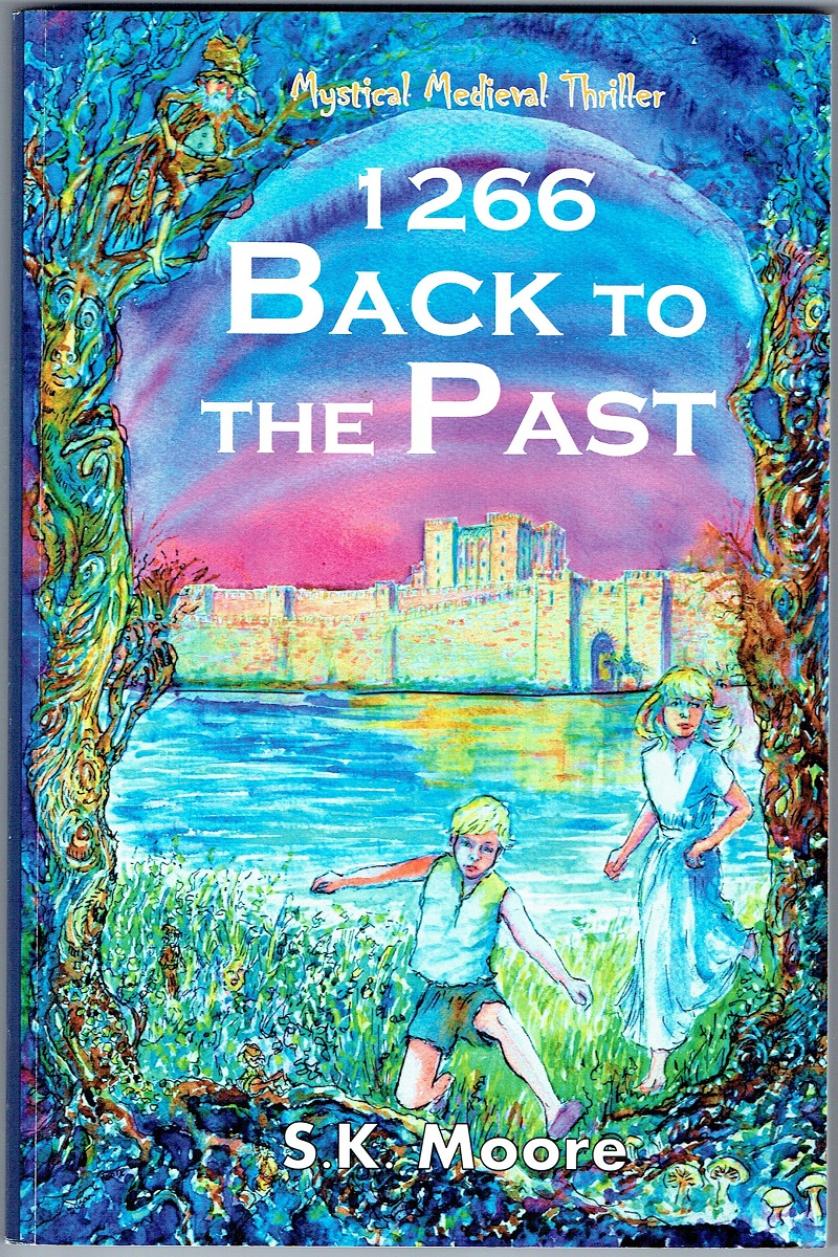 1266 BACK TO THE PAST. Mystical, medieval thriller about the siege of Kenilworth Castle. For children aged 9 upwards (to adult - like Harry Potter). Paperback, 138 pages. 100gsm paper. Richly illustrated (with drawings you can colour in). Back to the Past succeeds brilliantly in weaving fact with fantasy, making history come to life. £10.00. ISBN 9780951511657. Available to order now. Make order request on Contact Page or email: susan. k. moore @ btinternet.com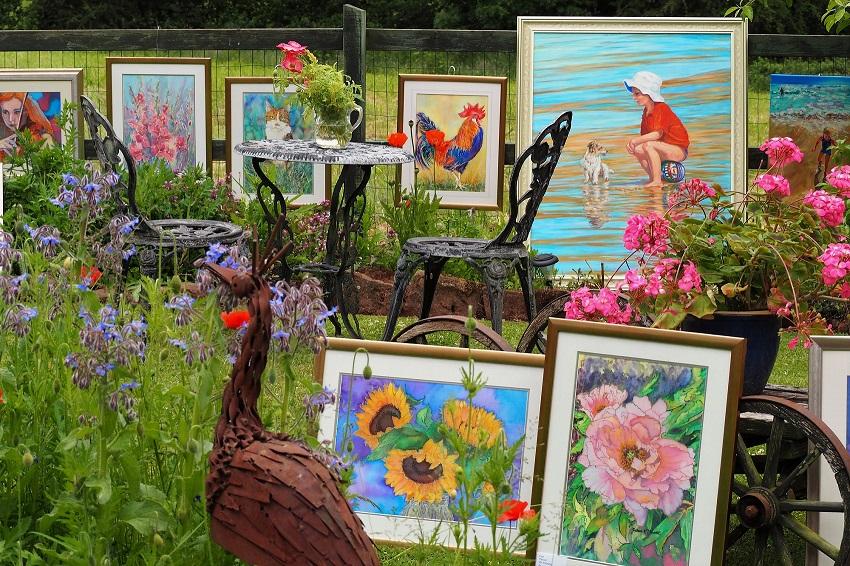 ART IN THE STUDIO AND GARDEN EXHIBITION 2021
If you would like details of the next private exhibition, please enter your details on the 'Contact Page'. Visitors are welcome to visit the studio at any time with an appointment. Commissions also welcome.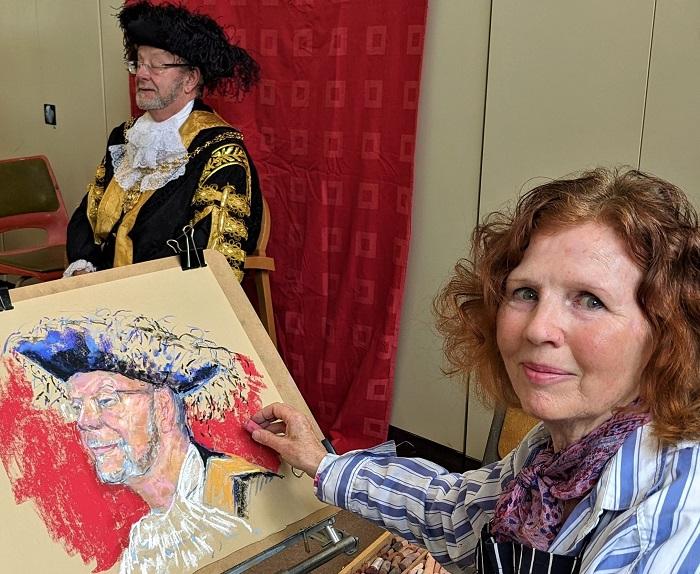 Portrait Artist - Susan Moore - working on a portrait painting in pastel of the Lord Mayor of Coventry.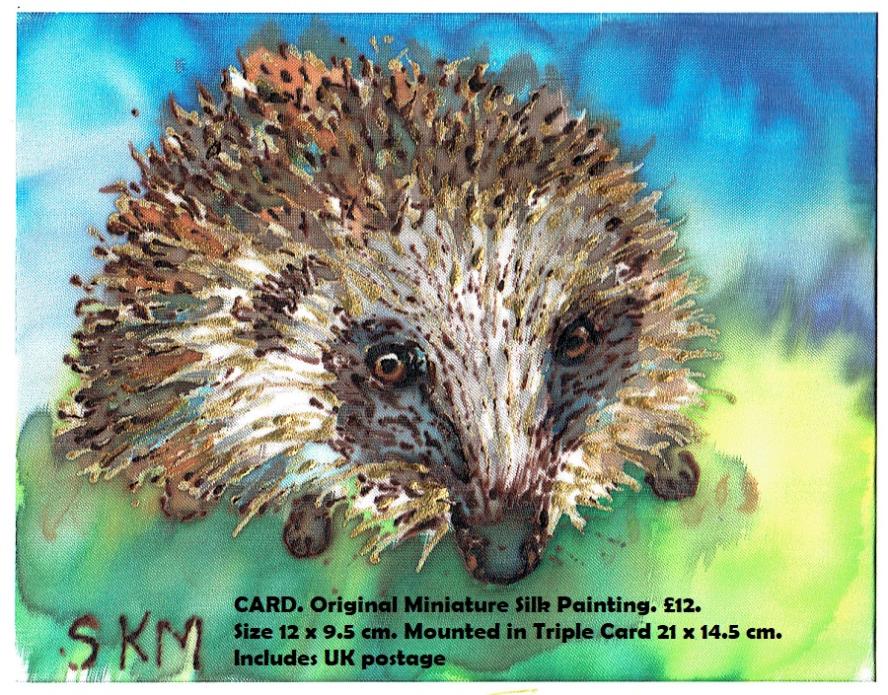 CARDS - SEE THE PAGE 'GREETING CARDS'
In Susan's 'free' time, she sometimes relaxes by creating small, miniature paintings. These are mounted in triple white cards,priced at £12, to include UK postage. They can be posted direct to someone special with your greeting.
In the studio there is a wide selection of 'printed' cards of paintings you will see on this web site. They can be ordered, Price £2.50 + UK postage.
PAINTINGS CAN BE POSTED, UNFRAMED, TO THE UK OR ABROAD.
Portraits of musicians, people, birds, dogs, cats, horses etc. Landscapes, houses, boats and cars.
Below: ''Old' British Bull Dog - Original - Watercolour £195 Framed size approx 16" x 20"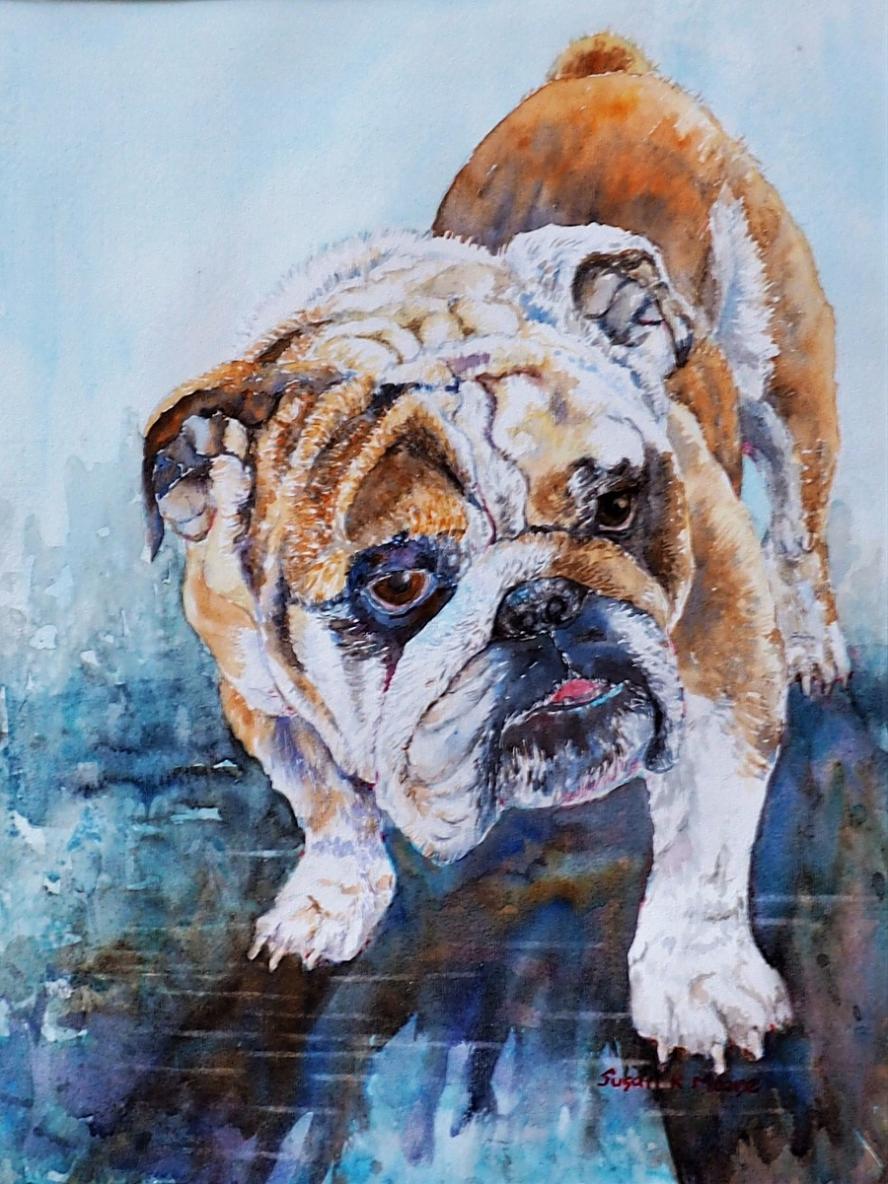 Susan Moore
Award winning Artist and Author
Unusual History Books, based on real people and events.
Her latest trilogy has received outstanding book reviews. The complete trilogy is available @ £24 to include UK p&p. More information on www.fillongley-publications.com
*****
POPCORN TO ROCK 'N' ROLL
An extraordinary biographical novel.
The story of Reg and Dorothy Calvert, from living in an old bus to
bringing Rock 'n' Roll to England. *Brilliant Book Reviews*
2nd edition. Enlarged and Revised £7.50 + £2.50 p&p. 224 pages. 50+ photographs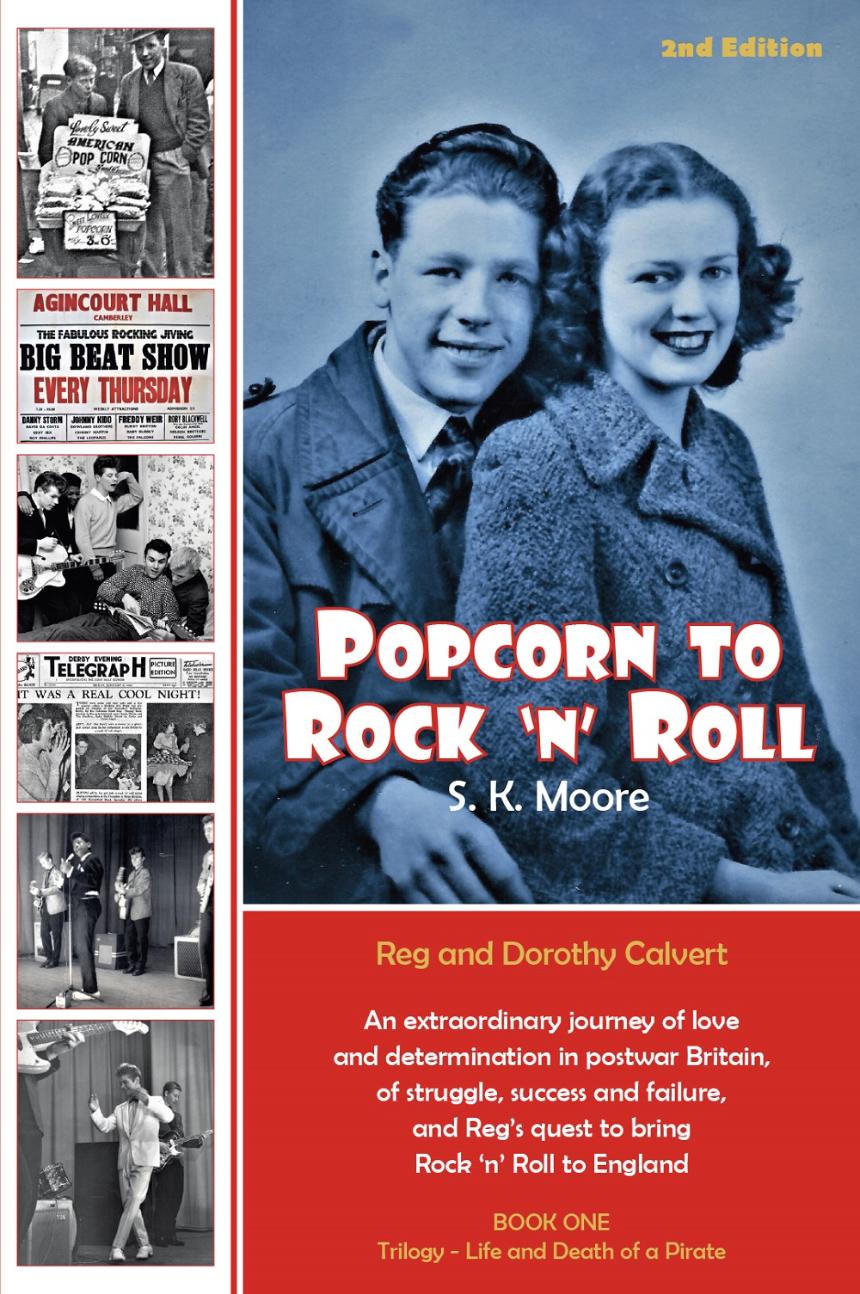 'LIFE AND DEATH OF A PIRATE' £16.50 to include p&p
Hardback special edition includes Books 2 & 3 of Trilogy
Book orders: Payment Methods
Paypal make payment by email to : fillongleypub@btinternet.com (and also email your name and address you would like your book posting to. You can also request a signed copy. The complete trilogy to include Book One 'Popcorn to Rock 'n' Roll' is £24. to include UK p&p
*Books can also be ordered from Amazon Books and Independent Bookshops
Kindle eBooks
1. Popcorn to Rock 'n' Roll (2nd edition) with photographs
2. Clifton Hall - School of Rock (with photographs)
3. Shivering Sands - 1960s Pirate Radio (with photographs)
Susan Moore -
ARTIST AND AUTHOR
Susan likes to work from 'real' life and where possible, paints people, landscape and objects in front of her.
Her books are fascinating and quite different to works by other writers. Not only are they beautifully designed and include either photographs or drawings, but are taken from 'real' life.
Awards for 'The Best Children's Book' and the 'Best Non Fiction Book' of the year.
Books can be ordered from Amazon or direct from Susan (less than Amazon prices)
More information www.fillongley-publications.com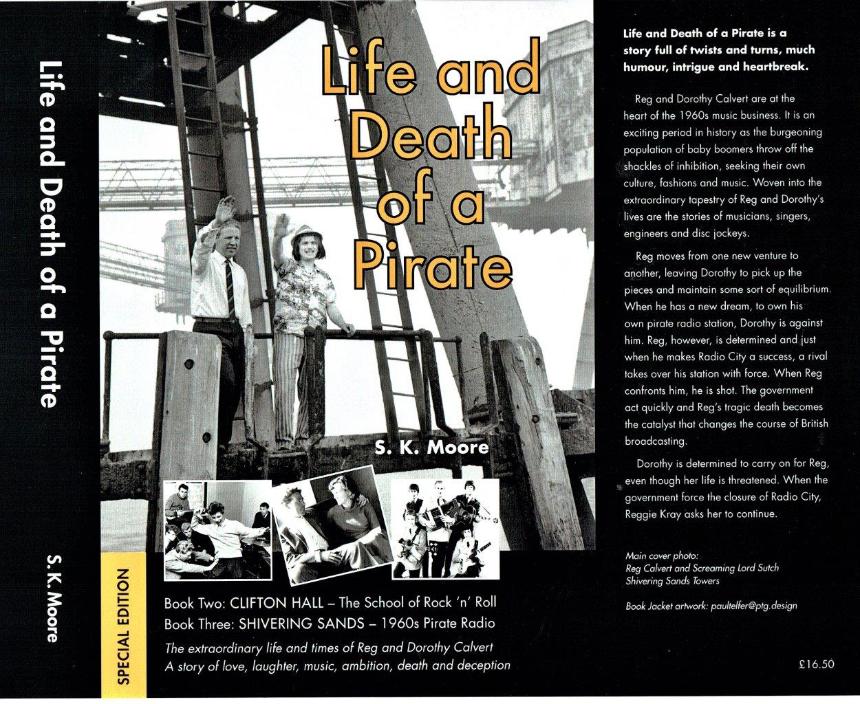 Below: 'Girl in White Dress' oil on canvas. £150. Size apprx 29 cm x 40 cm.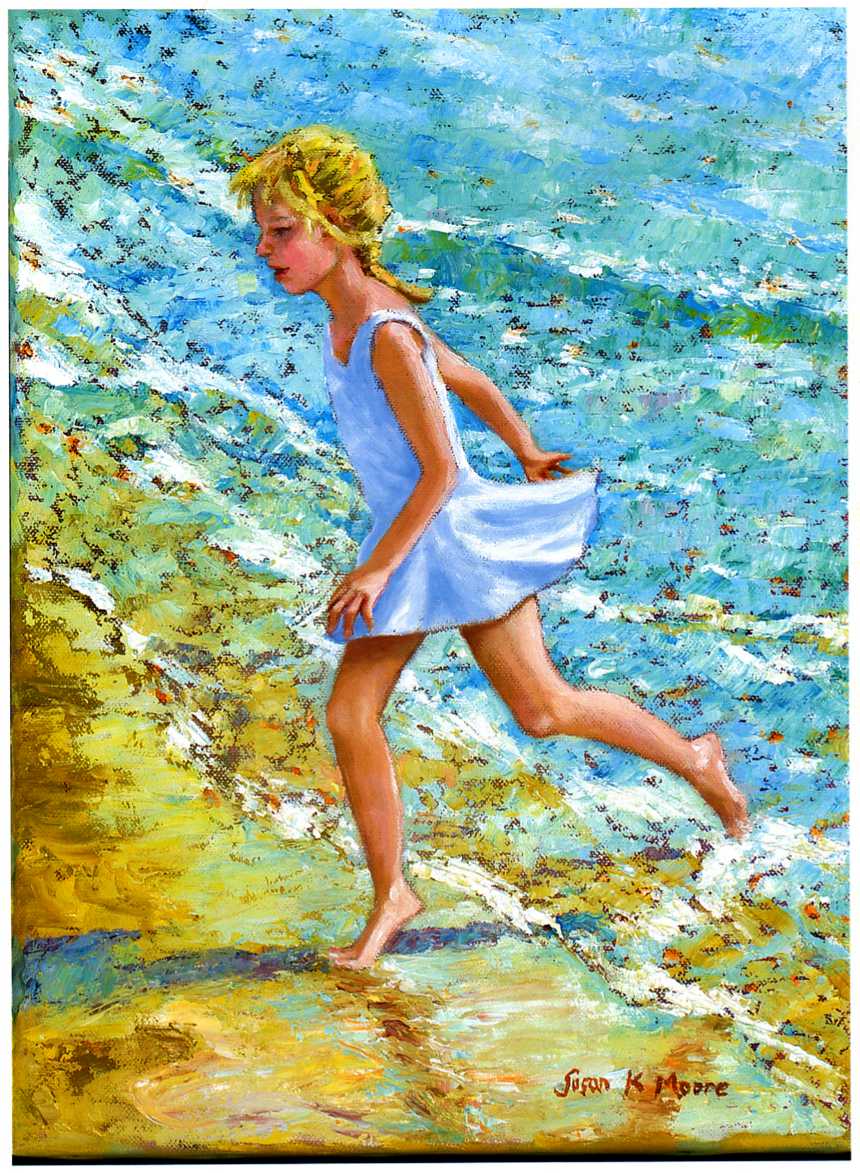 SMALL GROUP ART CLASSES - currently postponed due to Covid.
OPEN STUDIO by arrangement. Please text for an invite 07745 144 922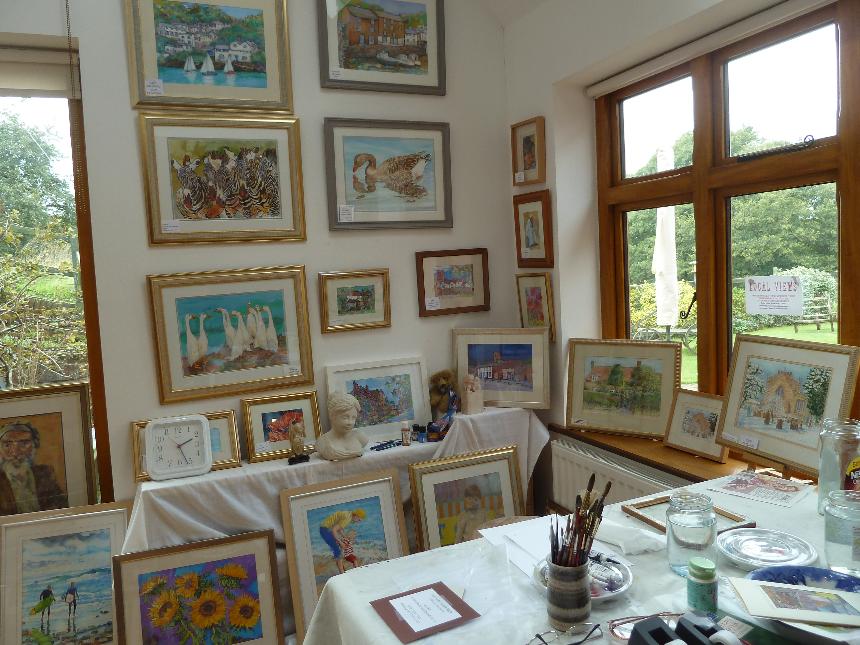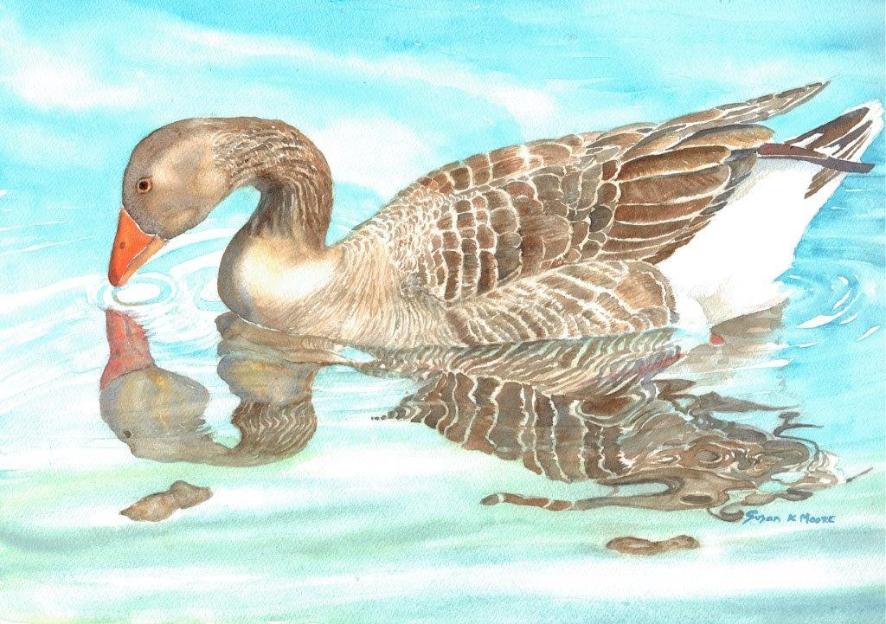 Above: Goose reflections. Original Watercolour framed: 20" x 16" £225
Other 'bird' paintings include: Owl painted on silk - framed £85. Ducks in Conversation painted on silk, framed £250. Mandarin duck reflections on silk, framed £195. Blank Greeting Cards available £2.25 each.

Above: Bob Dylan Pencil and Watercolour painting: £125
Below: 'Compo riding a Cock'. 'Compo riding a Duck'. Watercolours.
NEW
Portraits of pets with their 'miniature' owner.
Cost approx £250 to paint you a picture approx 30cm x 40cm to include over-mount and frame.
You can 'ride' your own cat or dog, or stand alongside them (in miniature). Every painting quite unique and a bit of 'fun'. Email: susan. k. moore @ btinternet.com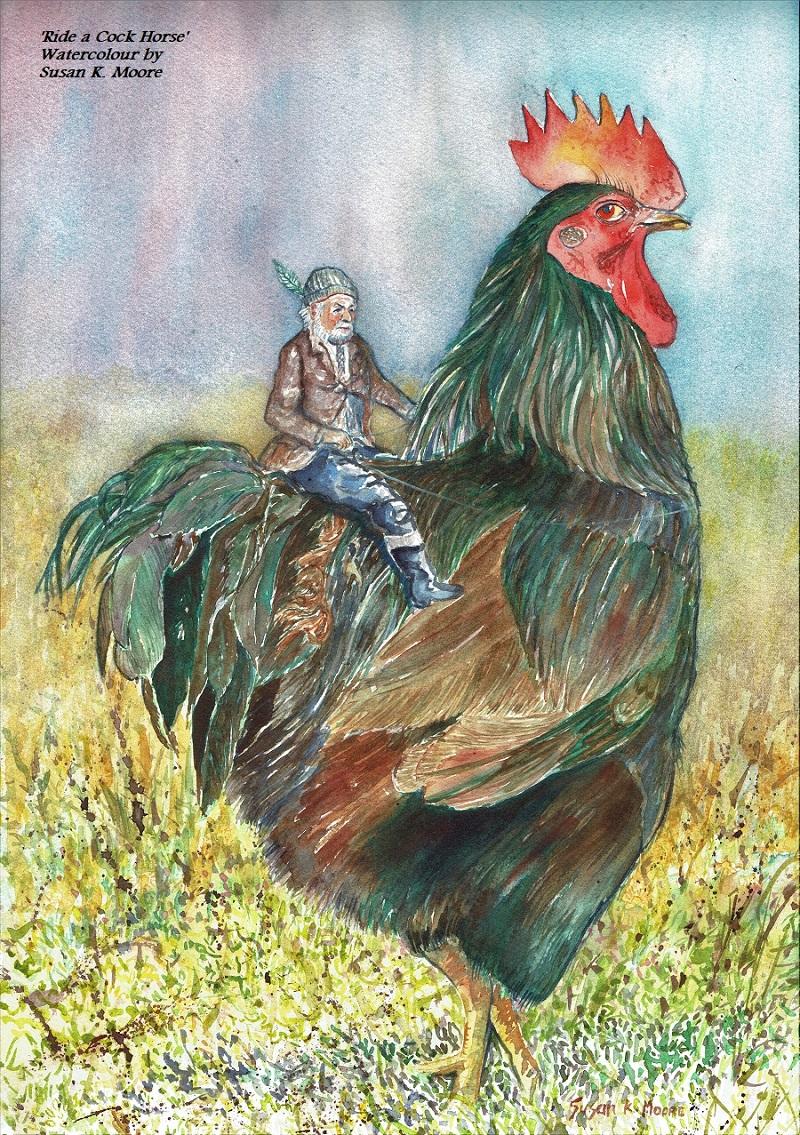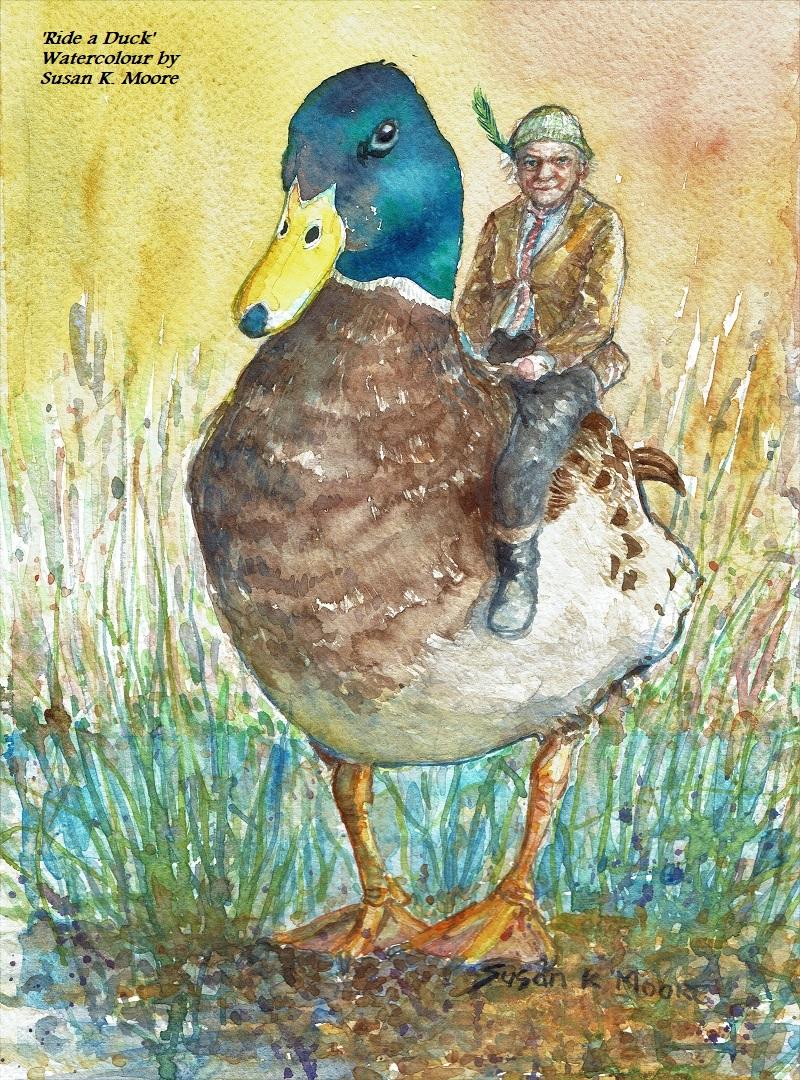 Below: Susan Moore in her studio holding a silk painting of Polperro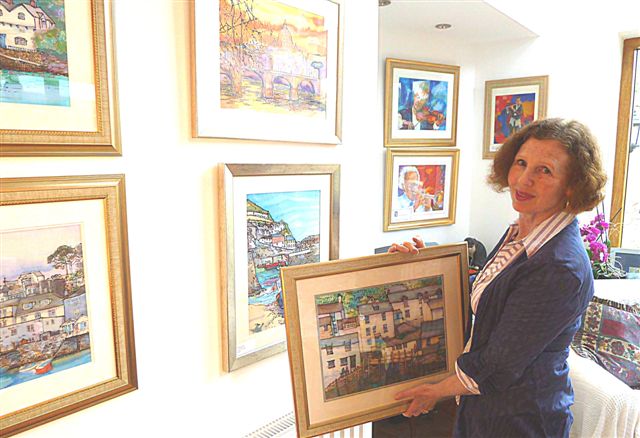 Below: Alvis Car, painted on silk. Commissions accepted to paint vintage cars on silk. From £195.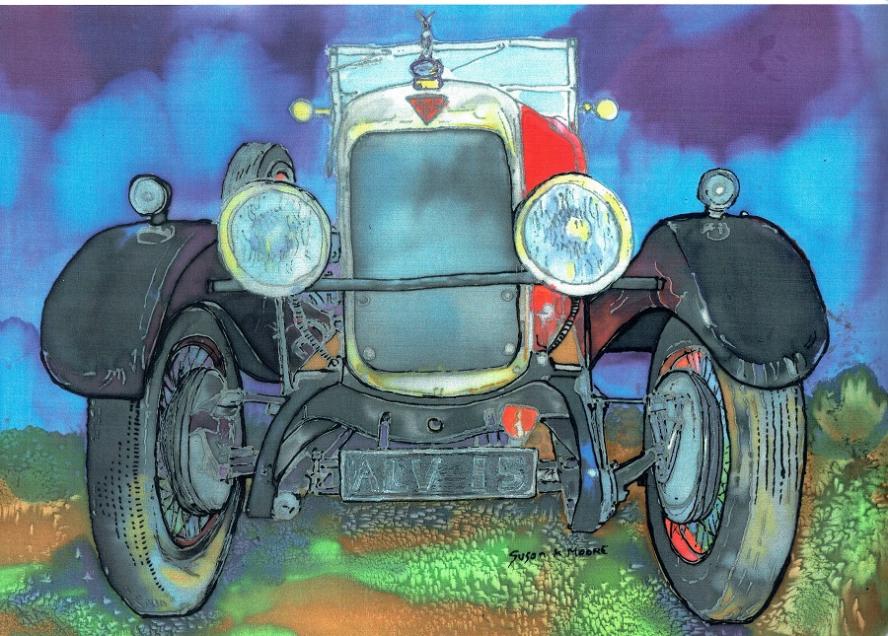 Below: David Bowey is just one of a series of Silk Paintings of famous musicians. If you would like to commission Susan to paint your favourite 'star' on silk, please email: susan.k.moore @ btinternet.com
Cost from £195. No charge if not delighted.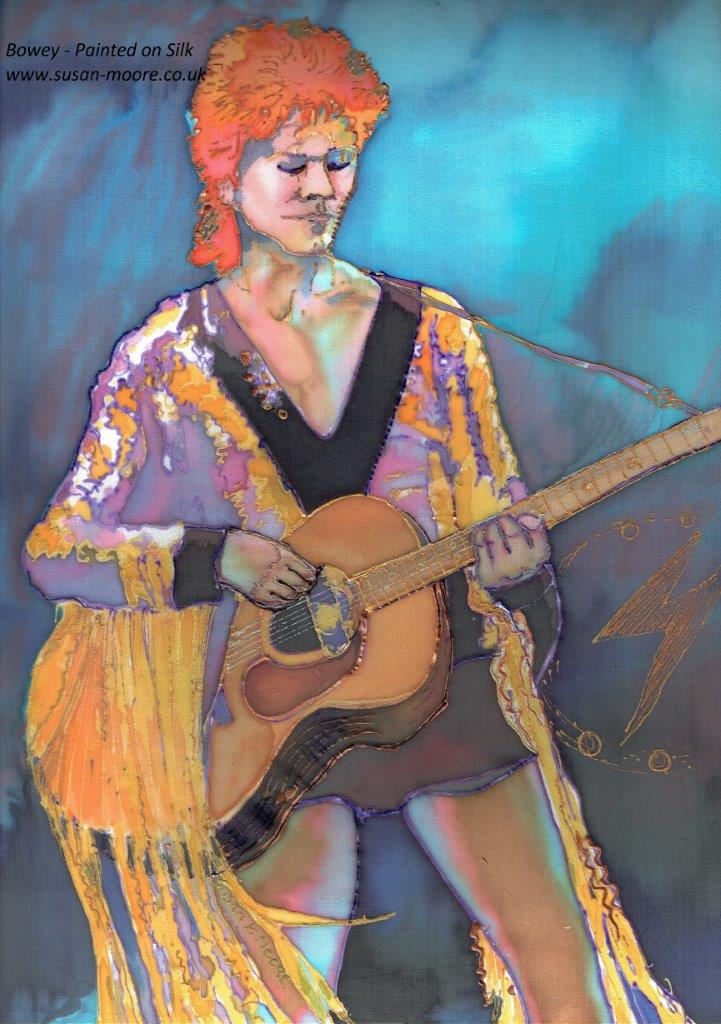 ABOVE: BOWEY £150 Silk Painting framed size approx 40cm x 50cm
Blank A6 Greeting Cards available £2.50 each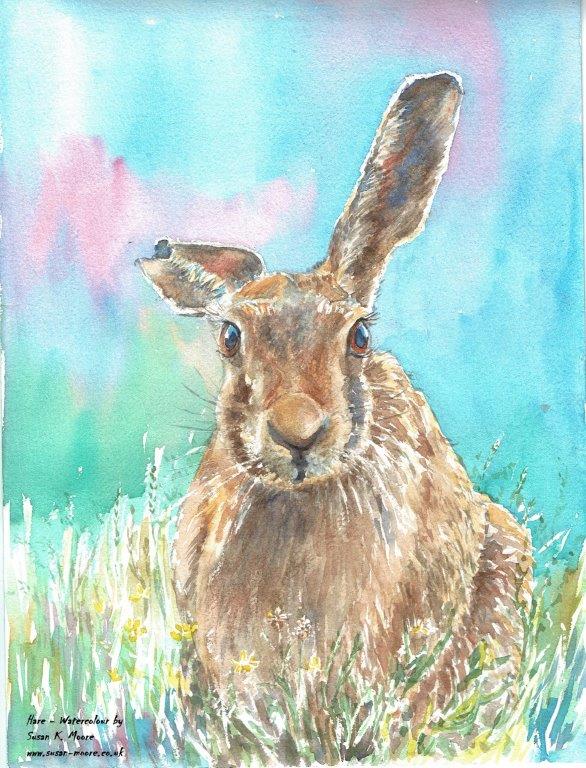 ABOVE: 'HARE' Watercolour. A6 Blank Greeting Cards available £2.50 each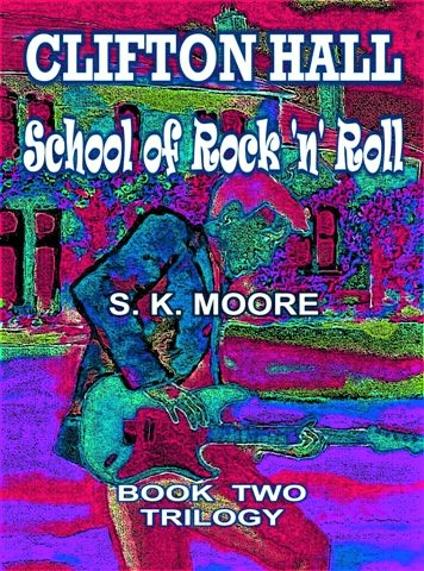 Clifton Hall and Shivering Sands Book Cover designs from original silk paintings by Susan Moore. Available from Amazon as eBooks or combined in special edition hardback: Life and Death of a Pirate. For more details about books visit: www.fillongley-publications.com

More details and photographs relating to the books and reunions: www.regcalvert-plays.co.uk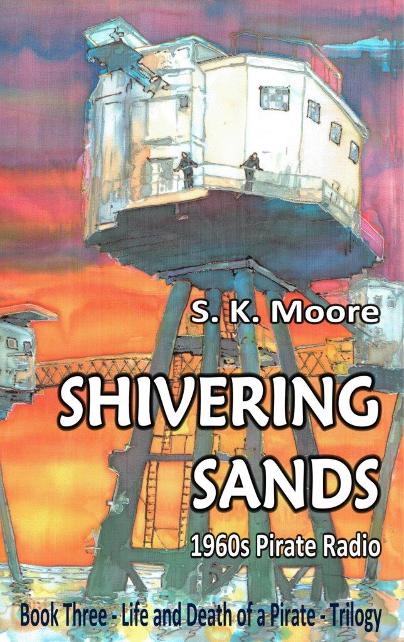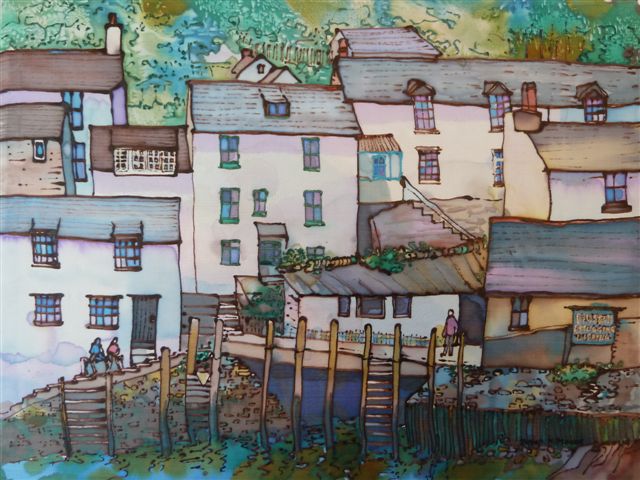 Above: POLPERRO £295 Silk Painting framed size approx 50cm x 40cm
Below: Racing the Waves, Oil Painting on Canvas £425. (Giclee canvas print available £125.)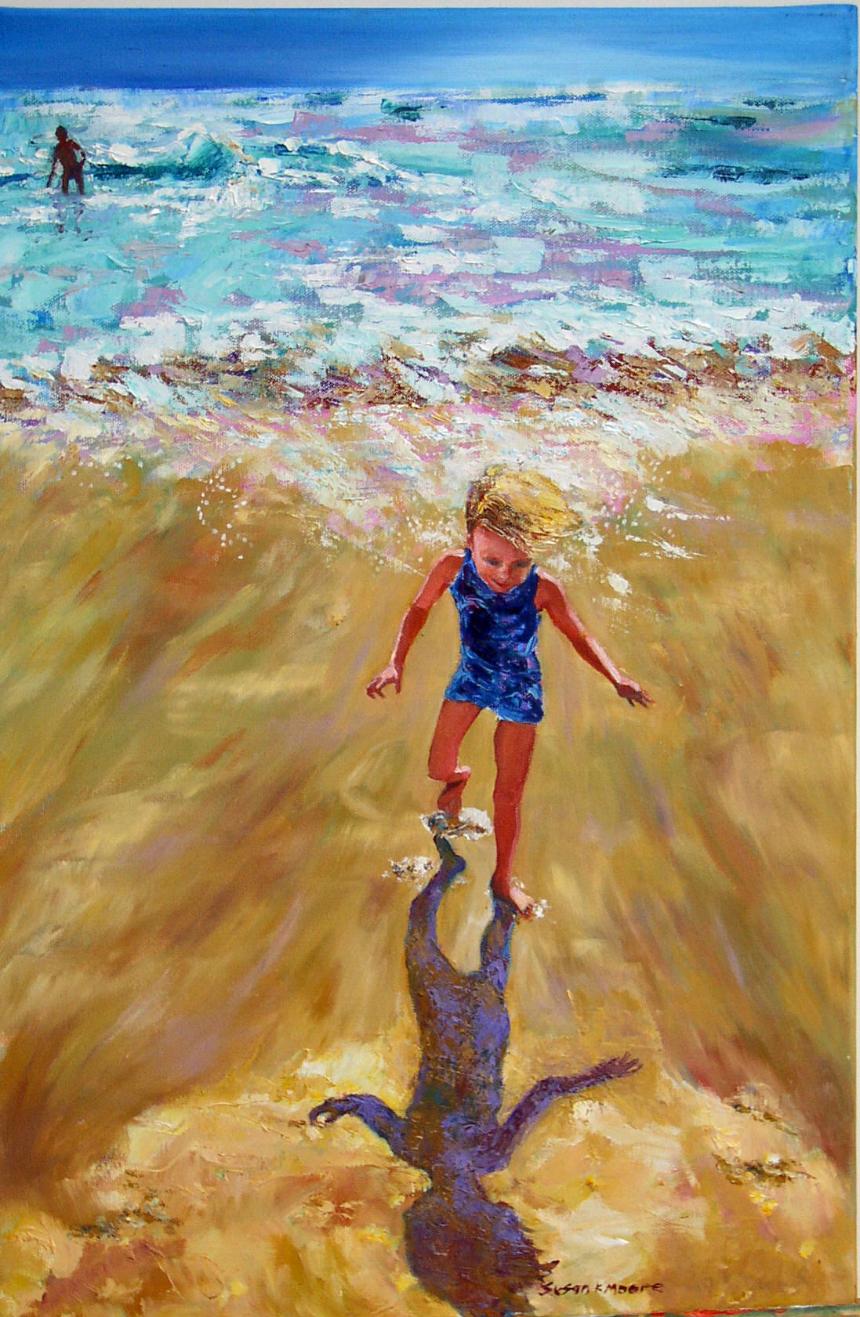 Below: Sheep with Sticky Willy. Watercolour. (sold)
Below: Ducks in Conversations. Painted on Silk. £250.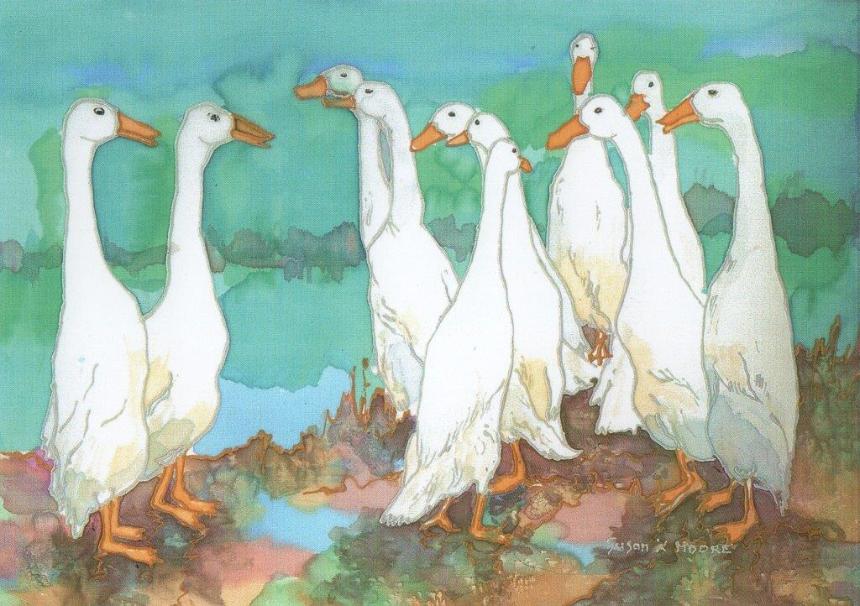 BELOW: A ROLLING STONE - Keith Richards - painted on silk.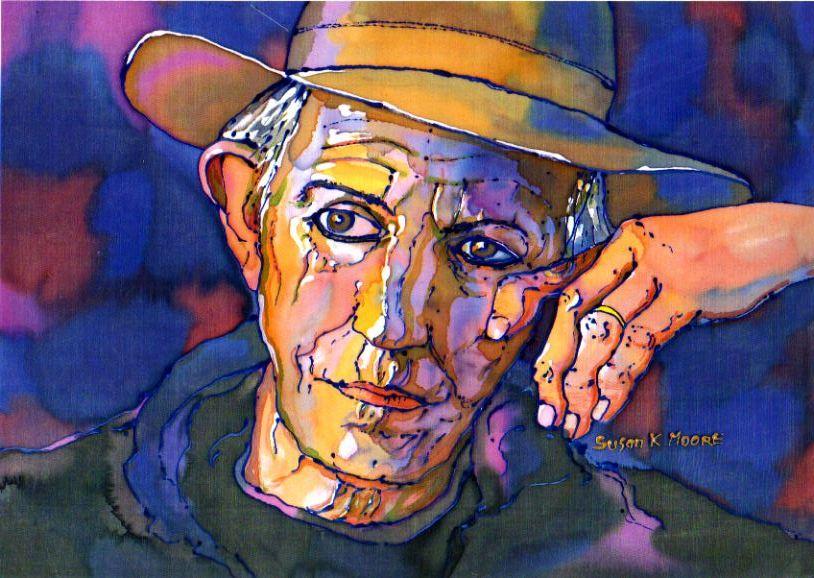 GREETING CARDS: Many paintings on this website are available as blank-cards. Size approx A6: 14cm x 20cm. The cards are cream, triple fold, with the print mounted inside a window aperture, and signed. £2.50 each. Includes postage on orders of 5+ cards.
If you are commissioning your own special painting you can have limited edition prints and cards made from your painting.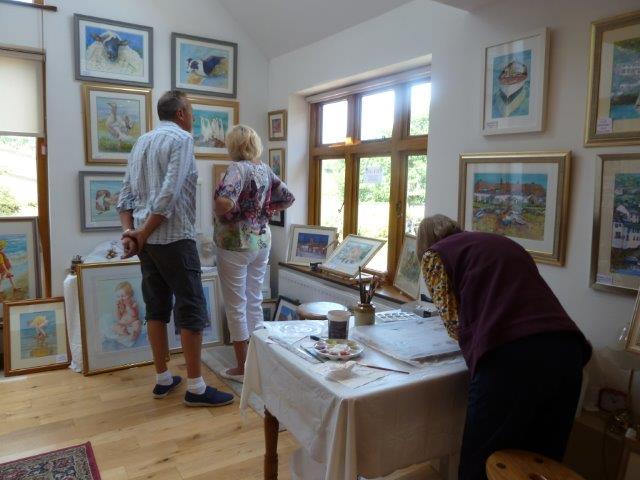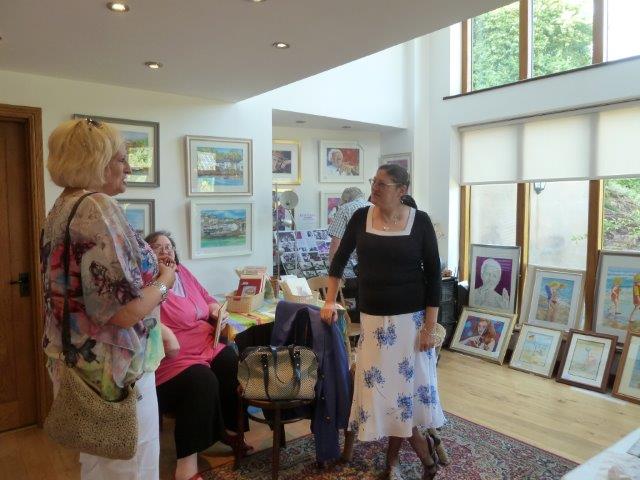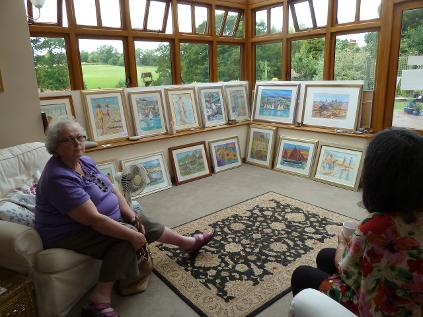 Left: Open Studio visitors having a 'go' at silk painting.

SUSAN USUALLY HOLDS AN 'OPEN STUDIO' WEEKEND, ONCE A YEAR, the 3rd weekend of September.

FOR YOUR INVITATION, PLEASE CONTACT SUSAN VIA THE 'CONTACT' PAGE.

ART CLASSES for beginners and intermediates are postponed due to Covid. (Specialist and individual classes by emailcan be arranged.)

SUSAN MOORE:

"I retired from running my own business and now spend my time writing and painting. I have a particular love of painting portraits of people and musicians, as a picture or in words. My style and technique have developed over years of training and experience.

I have illustrated several books, the footpath 'walk' leaflets for North Warwickshire Council, won Art and Literary awards, and exhibited widely in Coventry, Warwickshire, and at the Mall Gallery in London. One of my aims is to encourage 'new' artists and promote 'art' in Coventry and Warwickshire. I am currently Chairman of CASE (Coventry Art Societies Exhibition), and CWSA (Coventry & Warwickshire Society of Artists)."
I
ORDER YOU BOOKS DIRECT FROM THE AUTHOR
for signed copy and free UK postage.
Payment by PAY PAL to email:

susan.k.moore @ btinernet.com

Don't forget to supply name and address to post the book to, and who to sign it to.

S.K. Moore Book information

BOOK ONE: POPCORN TO ROCK 'N' ROLL

Amazon Kindle eBook. Paperback: sold out. Revised edition should be published end Feb 2020, available from Amazon Books. Sometimes real life can be stranger than fiction. A love story with many twists and turns. 1946 - 1960 Postwar England. Reg and Dorothy Calvert with no home and little money, bought an old bus and converted it into a caravan and Reg tried many ways to earn a living, including making popcorn. When Reg first heard Bill Haley's 'Rock Around the Clock' he gave up his steady job and set out to bring Rock 'n' Roll to England.




BOOK TWO: CLIFTON HALL - School of Rock

Amazon Kindle eBook. Also included in Special edition hardback: 'Life and Death of a Pirate' £16.50.

1961-1964. Reg and Dorothy move to Clifton Hall near Rugby and with them come an entourage of young musicians and singers. The press ask to visit and write (variously) about the 'School of Rock'. Many famous people visit the house including the Beatles. Sex, drugs, love, heartbreak and laughter - but not in the way you would imagine.




BOOK THREE: SHIVERING SANDS - 1960s Pirate Radio

Amazon Kindle eBook. Also included in Special edition hardback: 'Life and Death of a Pirate' £16.50

A tragic love story that tells of the extraordinary events of 1966, conspiracy, intrigue and murder. When Radio Caroline began broadcasting 1964 in a ship three miles out at sea, Reg had a new dream. To own a pirate radio station. With Screaming Lord Sutch, he started Radio Sutch on abandoned wartime forts in the Thames Estuary. After a summer of fun, Reg changed the name to Radio City. A rival wanted the station and took it with force. Two days later, he shot Reg. Dorothy is determined to continue and her life is threatened.