PUBLISHED MAY 2016
Artists Note

: The book cover - design -was first painted as a 'silk painting' using the same drawing of the guitarist used on front cover of 'Popcorn to Rock 'n' Roll' but with Clifton Hall set behind. I scanned the completed silk painting it into my computer - then colour enhanced and altered it to bring out the exaggerated colour.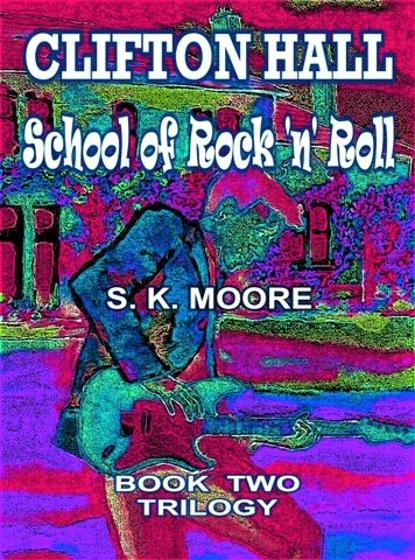 VISIT www.regcalvert-plays.co.uk
to see photographs and more details.
BOOK TWO: CLIFTON HALL
1961 - 65 Reg and Dorothy Calvert run what becomes known as the 'School of Rock 'n' Roll.' Many musicians and singers including the Beatles and Screaming Lord Sutch, visit, or stay at Clifton Hall. It is a tumultuous time with much fun, laughter and heartbreak. Expected publication 2016.
BOOK THREE: SHIVERING SANDS
(1960's pirate radio) To be published January 2018 as eBook and Paperback
NEW: SPECIAL EDITION
LIFE AND DEATH OF A PIRATE
(1960s PIRATE RADIO)
Books Two and Three 474 Pages, hardback edition. To be published end November 2017. £16.50.
1964 - 1967 Reg Calvert has a new dream, to run his own pirate radio station. Dorothy is against him as he sells Clifton Hall to finance it. By 1966 he has made Radio City a success and then pays for it with his life! The story of pirate radio, intrigue and murder. Expected publication 2016/17
An amazing real-life story may surprise you, SHOCK YOU, make you laugh and even make you cry. **********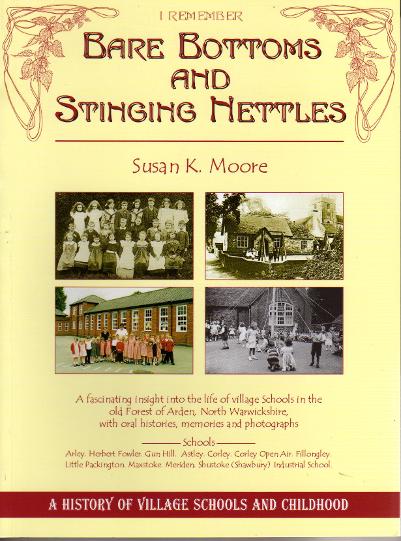 TRILOGY: BOOK ONE: POPCORN TO ROCK 'N' ROLL Amazon Kindle ebook £1.90 Paperback to order by post: £7.50
1946 - 1960 A REMARKABLE BIOGRAPHICAL HISTORY THAT READS LIKE A NOVEL OF THE CALVERT FAMILY, MUSICIANS AND SINGERS.
Post war Britain, Reg and Dorothy Calvert fall in love and Dorothy runs away from home and marries Reg, against her mother's advice, when they are both eighteen. With little money, Reg buys an old bus and converts it into a caravan and they travel south from Huddersfield to Southampton and live in an apple orchard for three years. Reg is resentful that he is tied down with two children by the time he is twenty two, but Dorothy does her best to cope while he flits from job to job. When he hears Bill Haley's, 'Rock Around The clock,' he has a dream. To bring Rock 'n' Roll to England.
Reg is enterprising and inventive, and like the Pied Piper, young musicians and singers give up their jobs to follow him as he pursues his dream. An extraordinary story of success and failure as it follows 1950's music trends.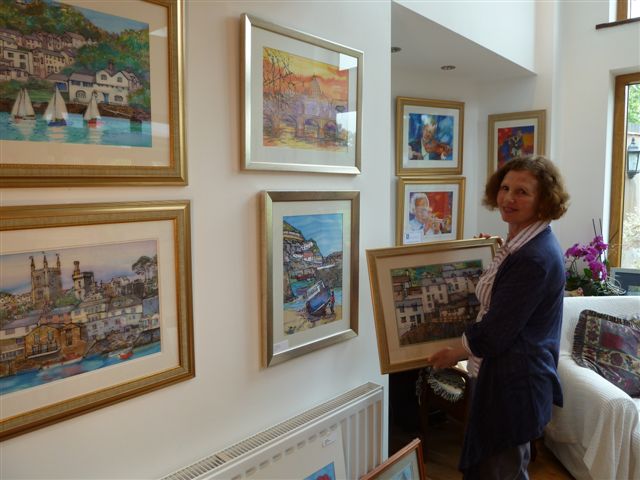 Above: Susan Moore in her studio. Books (and pictures) are available for sale during her summer and winter open studio exhibitions. If you would like an 'invite' please let her know in the 'contact' section.
********** Other books include:
THE ENCHANTED CASTLE (Illustrated book) Magical thriller based on the siege at Kenilworth Castle in 1266. Christopher and Louise get lost in time and have to find their way back with the help of Grumple Fairy and the Witch of Crackley Woods. 1993 Winner of the Best Children's Book - David St John Thomas Award. (Read in many schools - out of print - to be published as an ebook in 2015).
I REMEMBER BARE BOTTOMS & STINGING NETTLES. (Illustrated and with photographs).
Unique history of the rise and decline of village schools in the old Forest of Arden. Biographies and childhood memories. Eleven village schools, including an Open Air School and a Reform School. Available to order by post: £13.50
2006 Winner of the Best Non Fiction Book and The Best Self Published Book - David St John Thomas Awards. // October 2005, Warwickshire History Book of the Month. // 2005 Commended by the Arts Council for Community Publishing.
I REMEMBER STRAWBERRIES & SEWAGE (Illustrated and with photographs). Twenty biographies and anecdotes of life in the Village of Fillongley. Available to order by post: £4.50