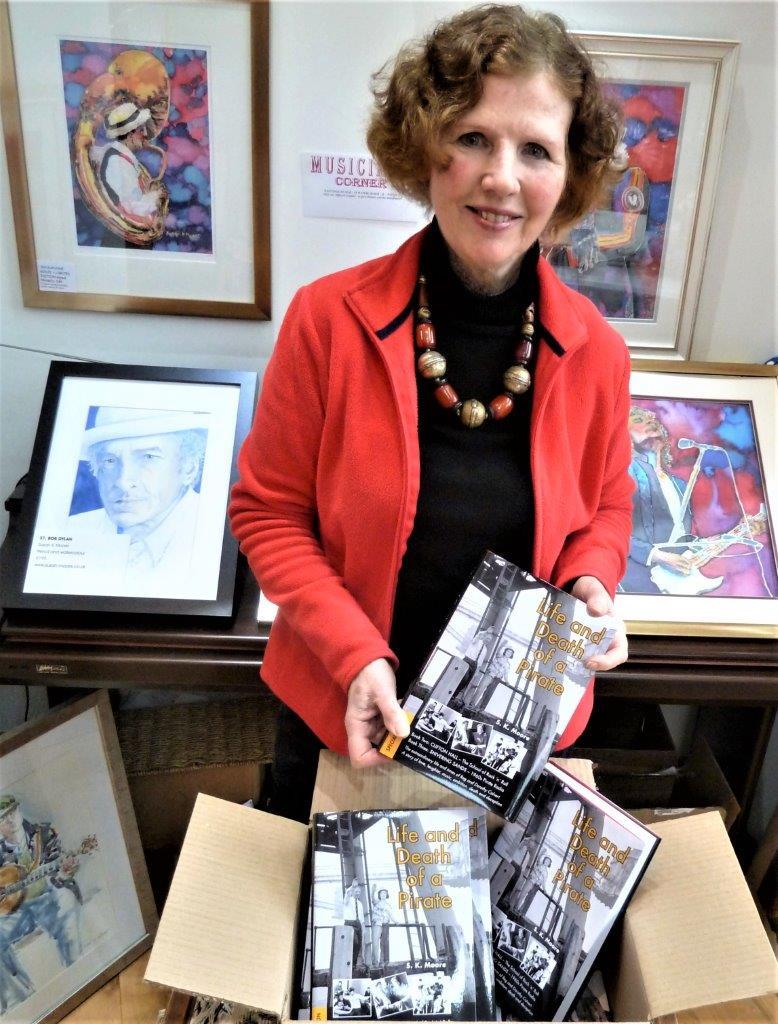 SUSAN MOORE ARTIST AND WRITER
Latest book: LIFE AND DEATH OF A PIRATE by S.K. Moore
Published by www.fillongley-publications.com
Special hardback edition, includes books 2 & 3 of trilogy with over 150 photographs
Price: £16.50
Books and paintings can be paid directly if you have a Pay Pal Account
to: susan.k.moore @ btinternet.com
If you prefer to pay by BACS or send a cheque
Contact Susan by email: susan.k.moore @ btinternet.com
More details about the book are below and on the website: www.regcalvert-plays.co.uk and on www.fillongley-publications.com
Behind, paintings of musicians in Susan's studio
Commissions welcome no charge if not delighted. Ask for a quote. Rates: from £125
(below)
BOB DYLAN IN BLUES: watercolour and pencil.100% Fabriano cotton paper. Size of original painting: 23 x 30.5 cm. (9" x 12"). £175
LIMITED EDITION PRINTS: Available to order: Price guide £30 each unframed
Books
For more information visit www.fillongley-publications.com
Trilogy: 'LIFE AND DEATH OF A PIRATE' by S.K. Moore
Also available as eBooks from Amazon
BOOK ONE: POPCORN TO ROCK 'N' ROLL paperback: £7.50.
Sometimes real life can be stranger than fiction. A love story with many twists and turns. 1946 - 1960 Reg and Dorothy Calvert married in 1946 aged 18, with little thought of the consequences. Life was hard in postwar Britain and with no home and little money, Reg bought an old bus and converted it into a caravan. They travelled south from Huddersfield to Southampton and lived in an apple orchard for three years while he tried various ways to earn a living, including making popcorn. Reg was a dreamer and ambitious. Dorothy was continually stressed, with two young children to provide for, she worried about what her husband will do next! When he first heard Bill Haley's 'Rock Around the Clock' he gave up his steady job and sets out to bring Rock 'n' Roll to England. Soon, he is running dances across the country for teenagers, employing many of the top stars and training young boys, musicians and singers, how to perform and making them into 'dance hall stars'. Reg is friends with record producer, Joe Meek, and provides many of his musicians, including Heinz, who becomes a famous recording star.
BOOK TWO: CLIFTON HALL - School of Rock (included in hardback: Life and Death of a Pirate)
1961-1964. Dorothy is tired of her husband's lifestyle and wants her independence but is persuaded to stay when Reg promises to buy her a nice house. They move to Clifton Hall near Rugby and with them come an entourage of young musicians and singers. The press ask to visit and write (variously) about the 'School of Rock'. There is much fun, laughter, music and heartbreak. Reg and Dorothy set about obtaining recording contracts for their musicians and Reg opens a nightclub. Dorothy has a pet monkey and life was never going to be ordinary in this extraordinary household. Reg employed many famous singers and groups to perform at his dances, including the Beatles and Rolling Stones.
BOOK THREE: SHIVERING SANDS - 1960s Pirate Radio (included in hardback: Life and Death of a Pirate)
1964 - 1967. Life may have gone on much the same for a few more years but when Radio Caroline began broadcasting in a ship three miles out at sea, Reg had a new dream. To own a pirate radio station. Dorothy reminded him, he couldn't afford to buy a ship, so he looked for an alternative. With Screaming Lord Sutch, he started Radio Sutch on abandoned wartime forts in the Thames Estuary. After a summer of fun, Sutch returned to performing but Reg continued, changing the name to Radio City and turning it into a professional station. Dorothy was at her wit's end. Clifton Hall was put up for sale. By the following year, Reg had made Radio City into a successful and profitable station. He was also managing the Fortunes and Pinkerton's Assorted Colours who both had top twenty hit records. Life was going well until a rival who wanted a share of his station, took it over with force. Two days later, he shot Reg dead. Dorothy was determined to have the station back, even though her life was threatened. Reg's death was the catalyst that changed the face of British broadcasting. Even today, there are unanswered questions and at the end, when Radio City is forced to close, Reggie Kray asked Dorothy to continue, saying he had the government in his pocket.
Woven into the tapestry of Reg and Dorothy's extraordinary lives are the stories of musicians, singers, pirate disc jockeys and radio engineers. A true story of the 1960s where facts can be stranger than fiction.
The books can be ordered direct from Susan Moore email: susan.k.moore @ btinternet.com
or from Amazon.com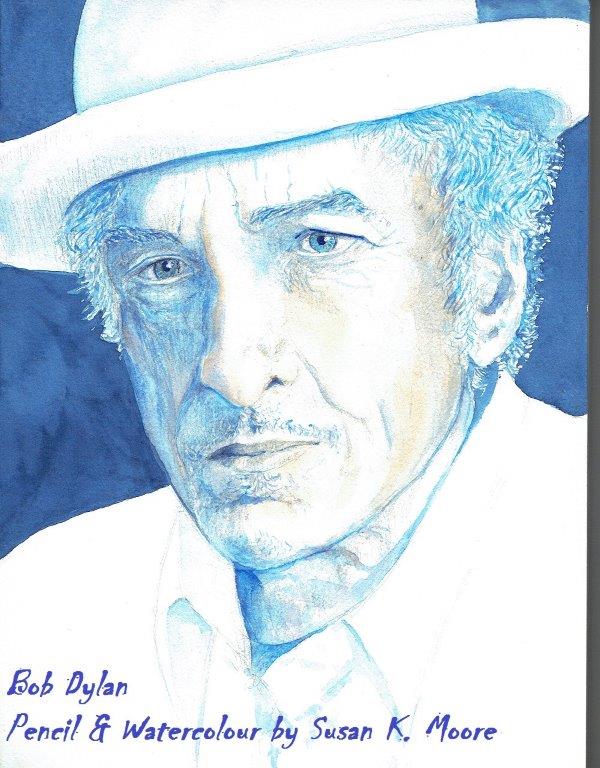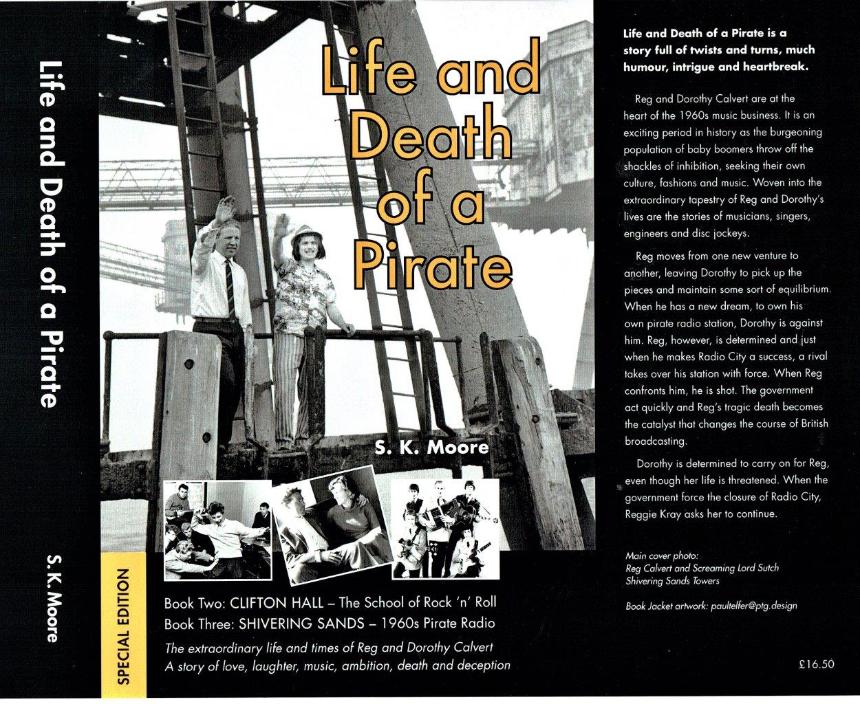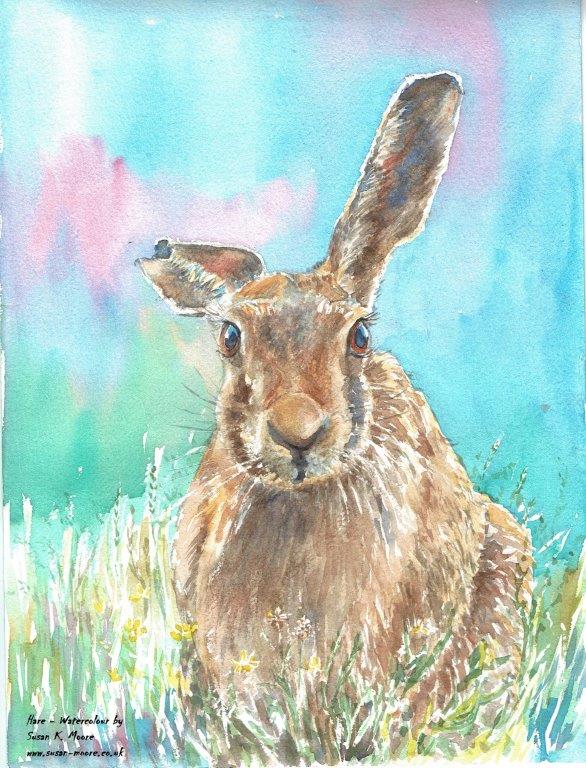 ABOVE: 'HARE' Watercolour. // Original £175 : // Signed limited edition prints to order £30.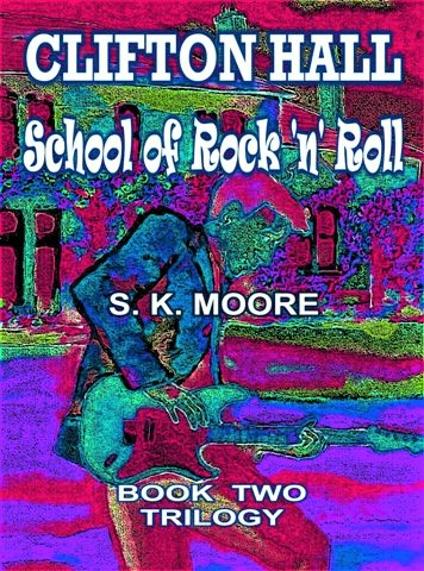 Book Cover design from original silk painting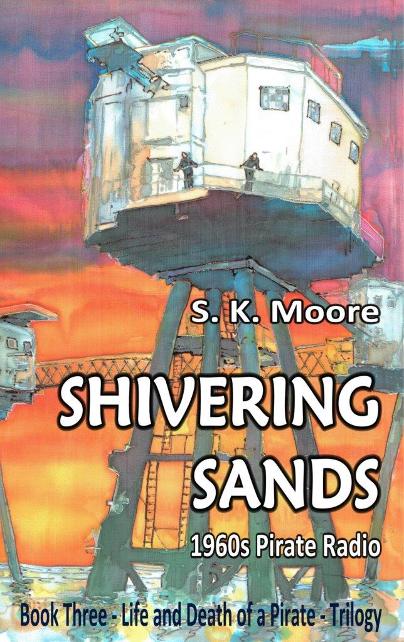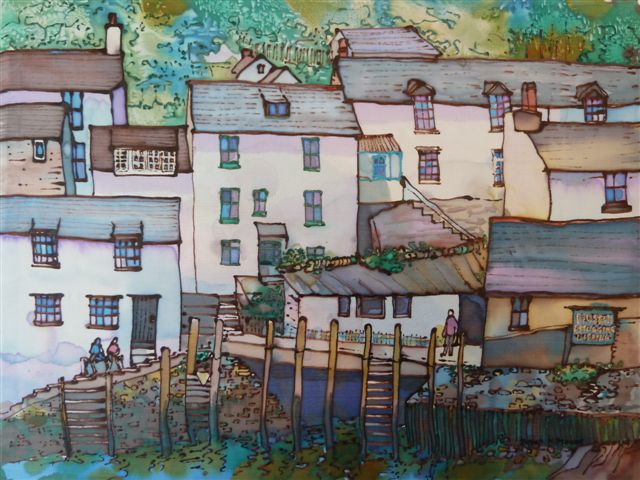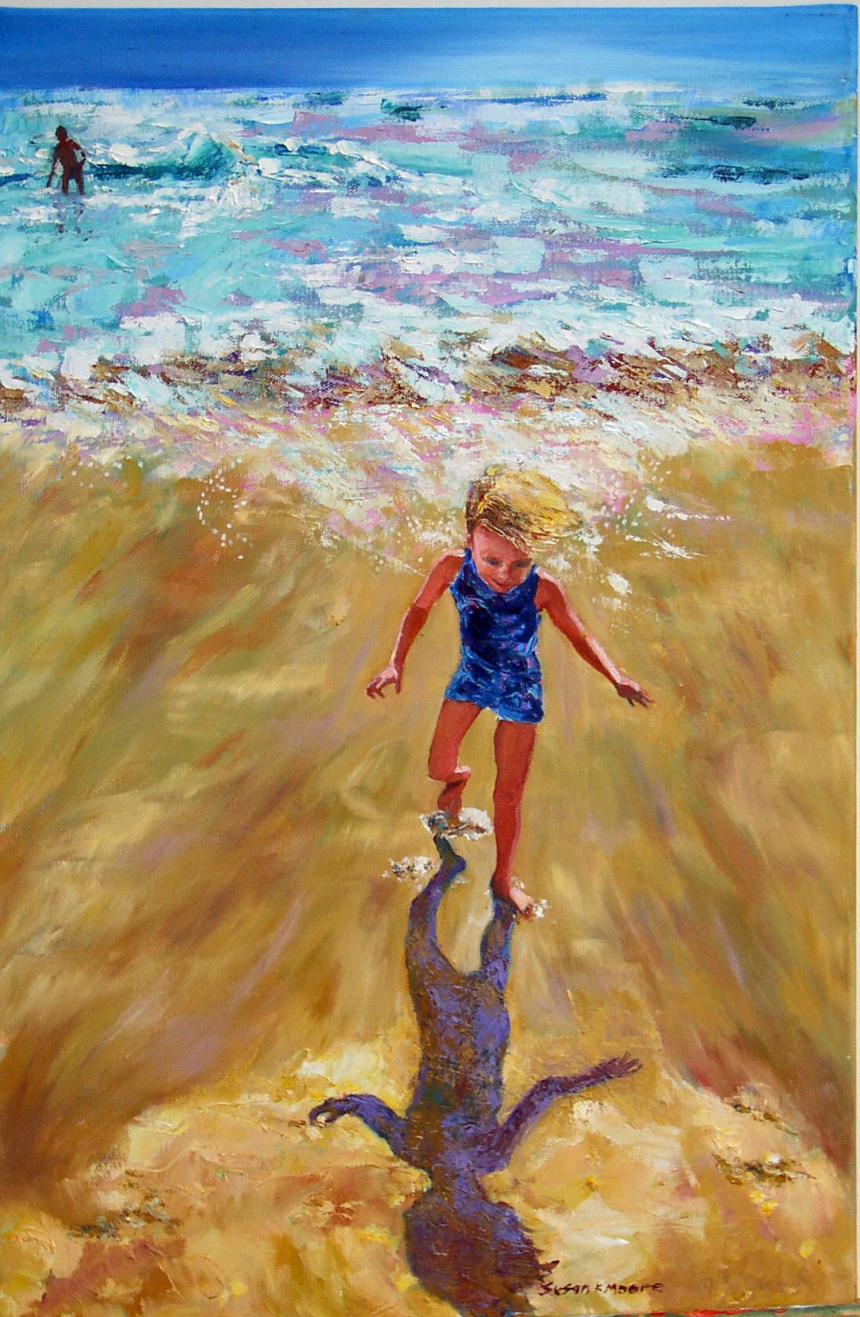 RACING THE WAVES - OIL PAINTING ON CANVAS £350. (Or as Giclee canvas print: £125)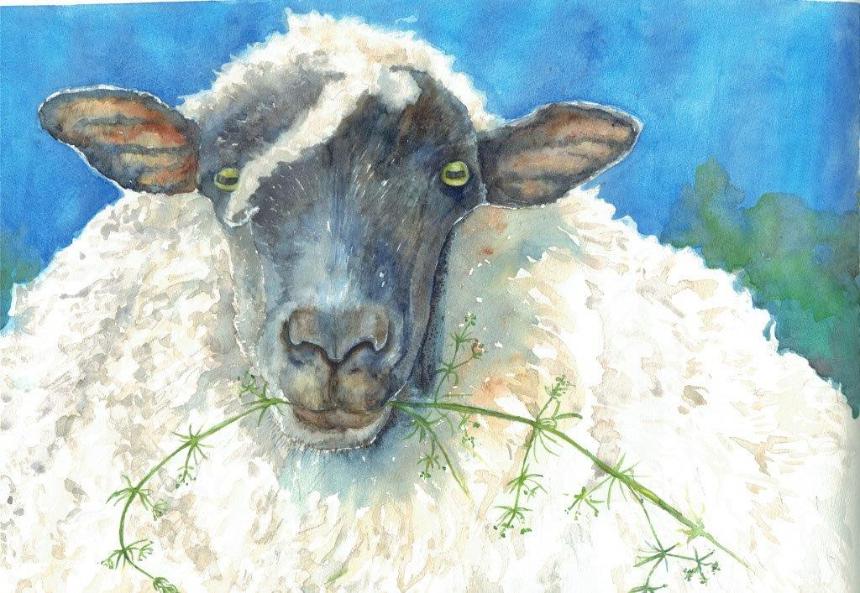 SHEEP WITH STICKY WILLY GOOSE GRASS. Watercolour. £250. (Cards and signed prints available)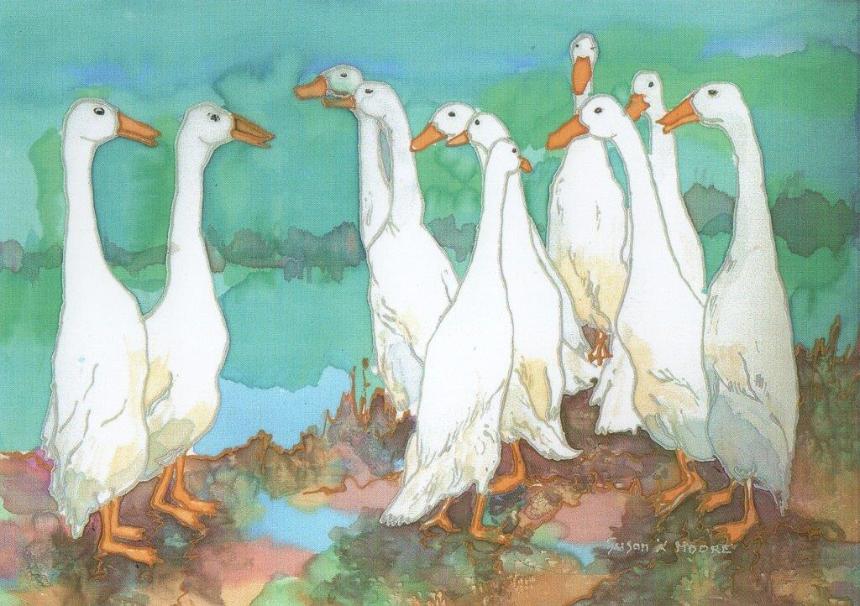 ABOVE: DUCKS IN CONVERSATION Original Silk Painting. Over mounted and framed size approx 20" x 16". £250. (Signed limited edition laser prints available)

BELOW: COVENTRY SALLIE ARMY Original Silk Painting. Over mounted and framed size approx 20" x 16". £250. (Signed limited edition laser prints available)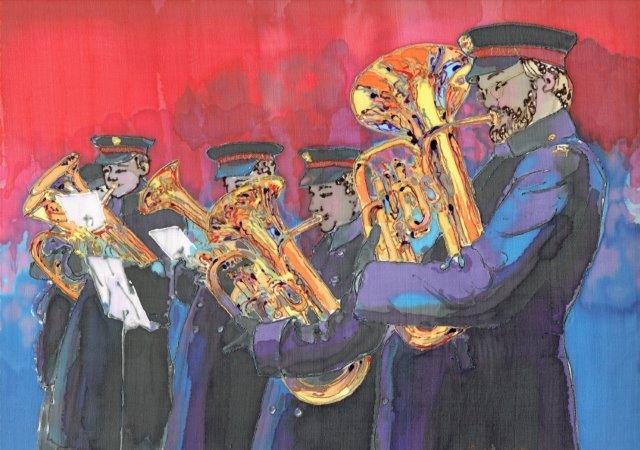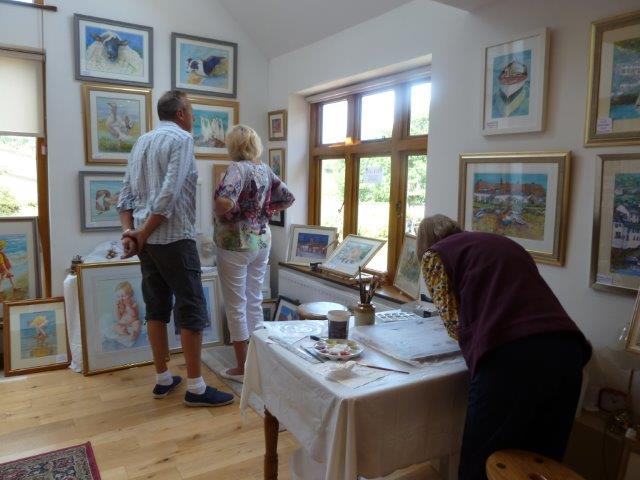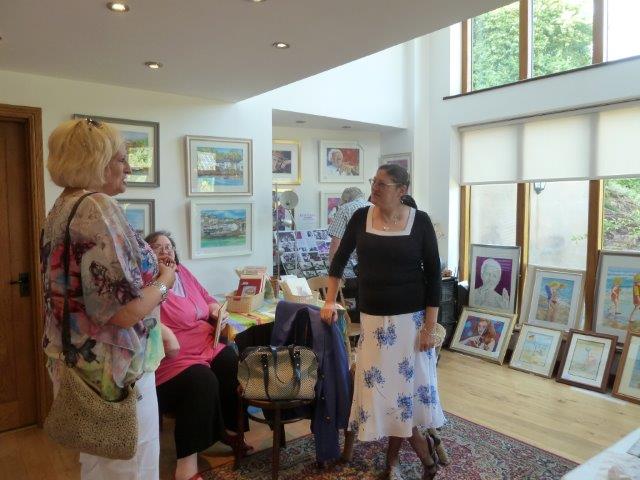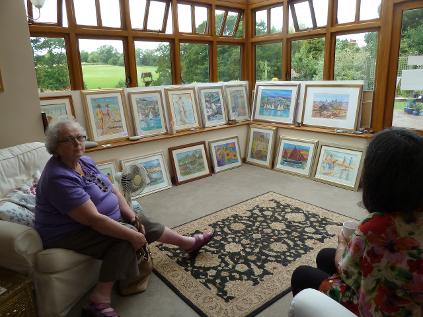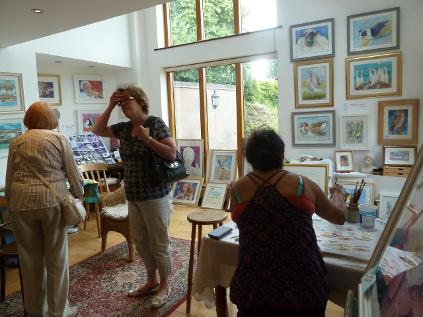 Left: ''Open Studio' visitors having a 'go' at silk painting.

SUSAN USUALLY HOLDS A 'OPEN STUDIO' WEEKEND, ONCE A YEAR.

FOR YOUR INVITATION TO THE NEXT ONE, PLEASE CONTACT SUSAN VIA THE 'CONTACT' PAGE.
I
Approach
I approach my work with a unique perspective. My style and technique are broad and flexible, developed over years of training and experience. The main media I work with are watercolour, pastel, oil and silk paints. I have illustrated several books and 'Walks' for North Warwickshire Council. Have won awards and exhibited widely in Coventry and Warwickshire and at the Mall Gallery in London.