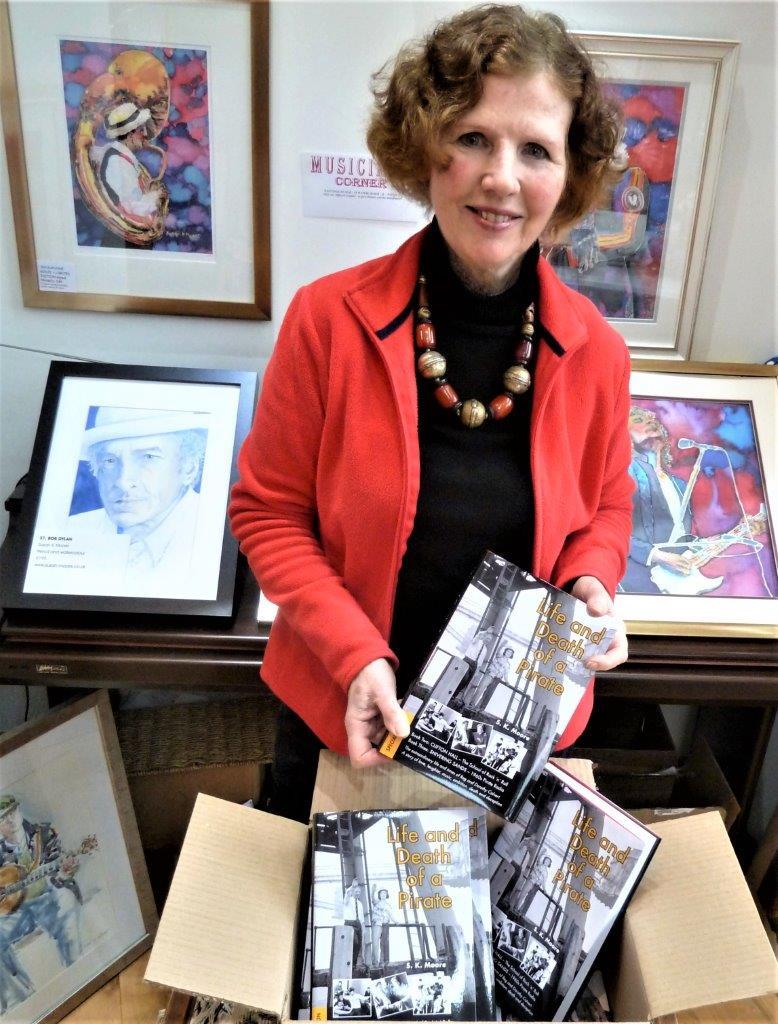 SUSAN MOORE ARTIST AND WRITER
Latest book: LIFE AND DEATH OF A PIRATE by S.K. Moore
Published by www.fillongley-publications.com
(Contact Susan if you would like a copy: £16.50)
Behind, paintings of musicians in Susan's studio
WANT TO BUY A PAINTING?
MANY OF THE PAINTINGS displayed on this website gallery are for sale. If you do not see exactly what you want, please ask.
Commissions welcome and they don't cost anymore to have something painted specially for you. e.g. Portrait of a family member, pets, horses, cats, dogs, your house or favourite landscape view, from £125 - £250+ depending on size, number of hours it takes to complete and framing.
Bob Dylan Portraits ~ Below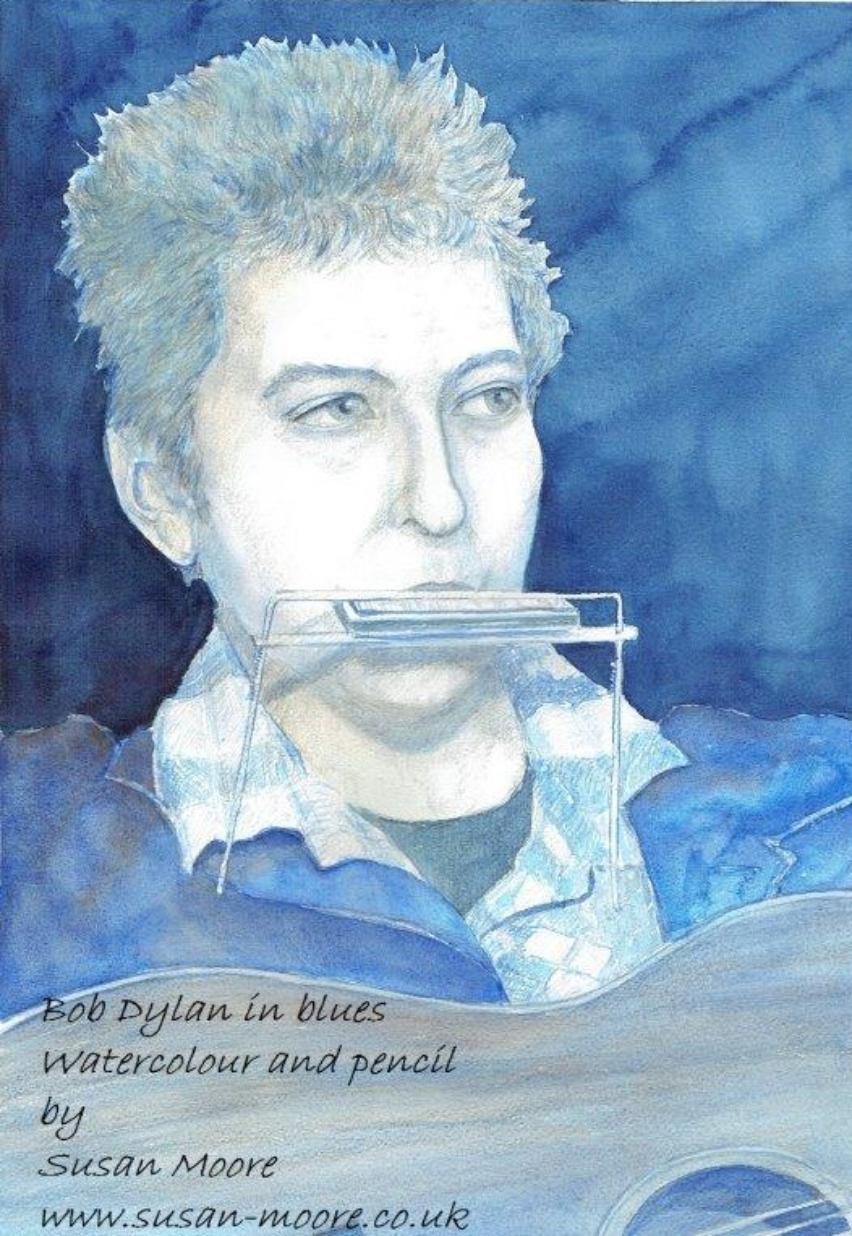 BOB DYLAN - in blues, watercolour and pencil. Commission. (sold)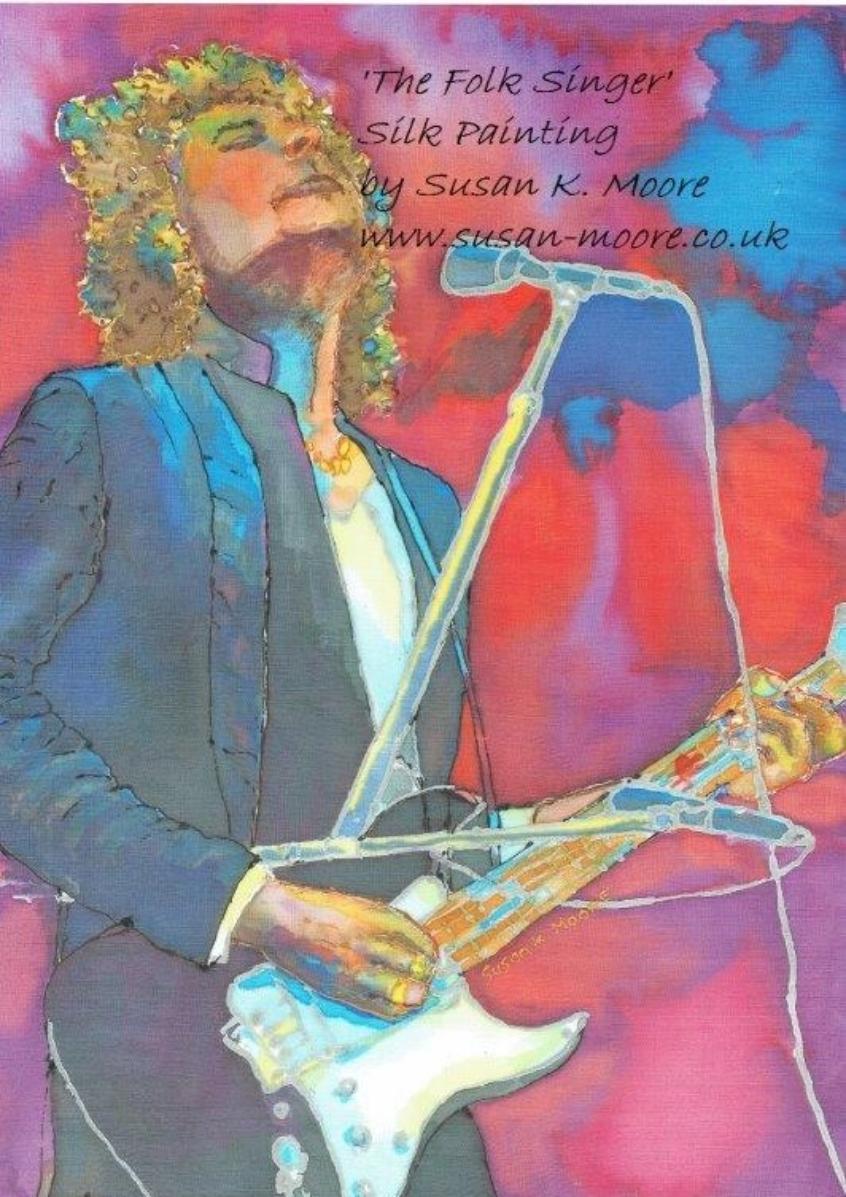 Bob Dylan
(Above) The Folk Singer, painted on silk. Original: £150 to include frame with over mount 20" x 16. Artist Signed Print - limited edition: £30 each + p&p. Frame 16" x 20" with over mount: approx £20 extra.
(below)
Portrait painted in watercolour over pencil drawing, on 100% Farbiano cotton paper. Size of original painting: 23 x 30.5 cm. (9" x 12").
Prints available to order: Price guide £30 each unframed - can be posted + p&p.
(20" x 16" Frame with over mount: approx + £20 extra).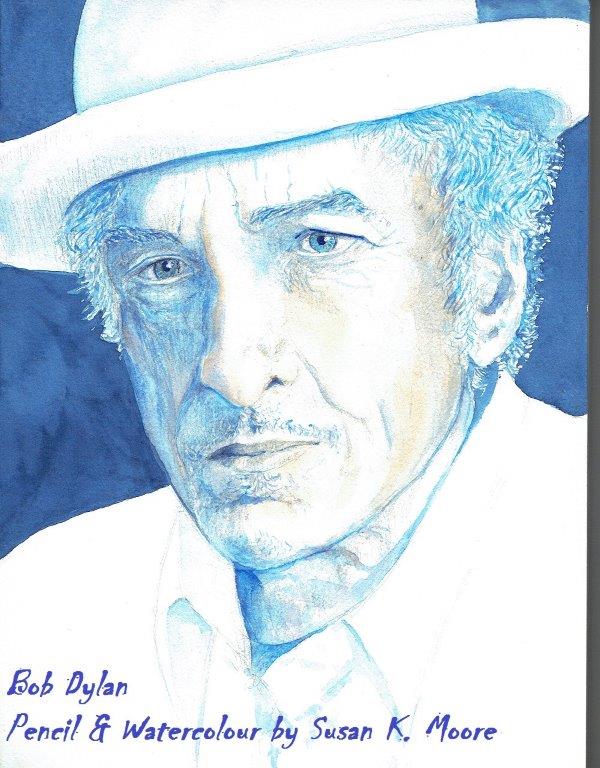 WANT TO BUY A PAINTING?
You are welcome to visit THE STUDIO or order one off the website and have it posted
Pay by debit or credit card
TELEPHONE: 07745 144 922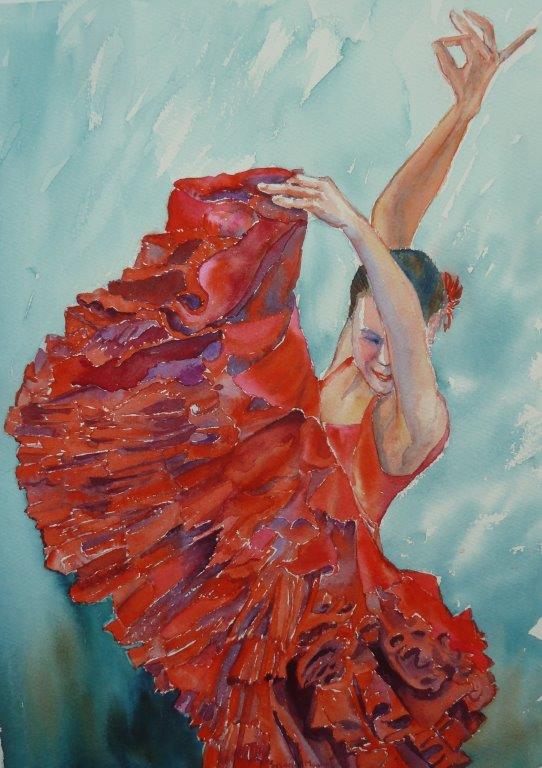 NEW: Above: SPANISH DANCER in red. Watercolour. £150.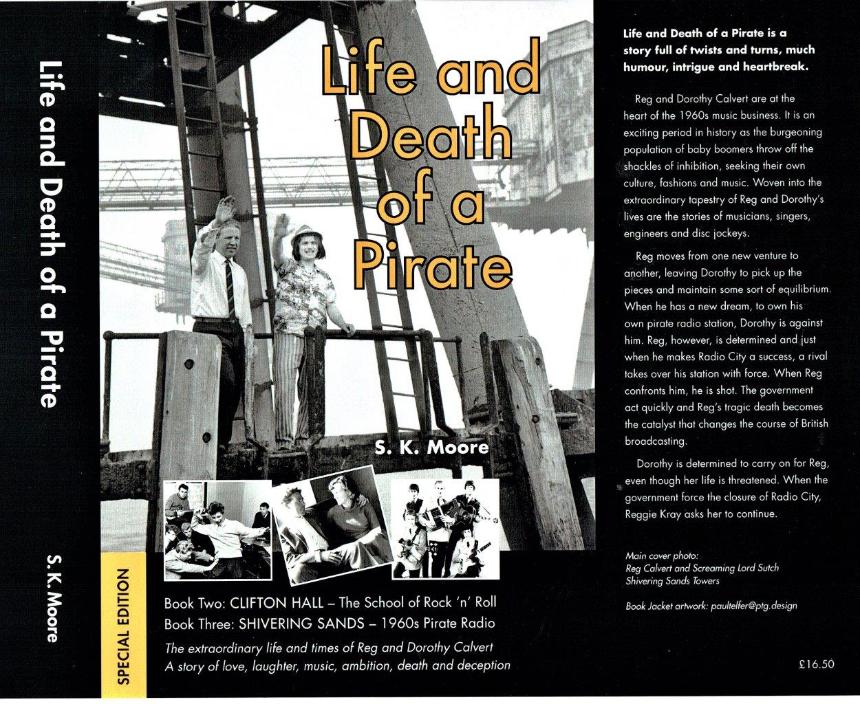 Books
*NEW* SPECIAL EDITION 'LIFE AND DEATH OF A PIRATE' by S.K. Moore
Biography of Reg and Dorothy Calvert, written as a novel. Woven into the tapestry of their extraordinary lives are the stories of musicians, singers, disc jockeys and radio engineers. A true story of the 1960s where facts can be stranger than fiction. Hardback. 474 pages. £16.50
Includes many photographs and books 2 and 3 of trilogy.
Book 2: CLIFTON HALL - School of Rock 'n' Roll and Book 3: SHIVERING SANDS - 1960's Pirate Radio
Book 1: POPCORN TO ROCK 'N' ROLL Paperback £7.50 or eBook from Amazon or www.fillongley-publications.com
'I Remember Bare Bottoms & Stinging Nettles' An award winning book about the history and memories of local Village Schools. £13.50 // Other Warwickshire History Books available from www.fillongley-publicatons.com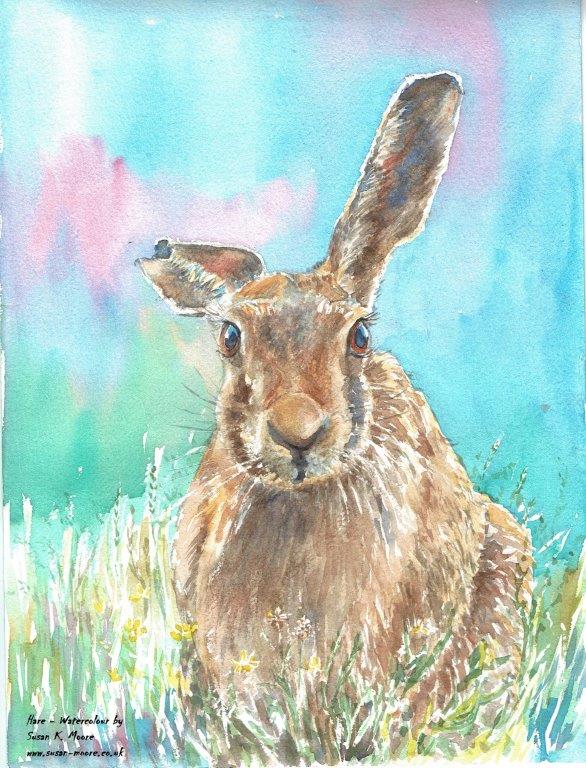 ABOVE: 'HARE' Watercolour. // Original Available £150 // limited edition signed laser prints available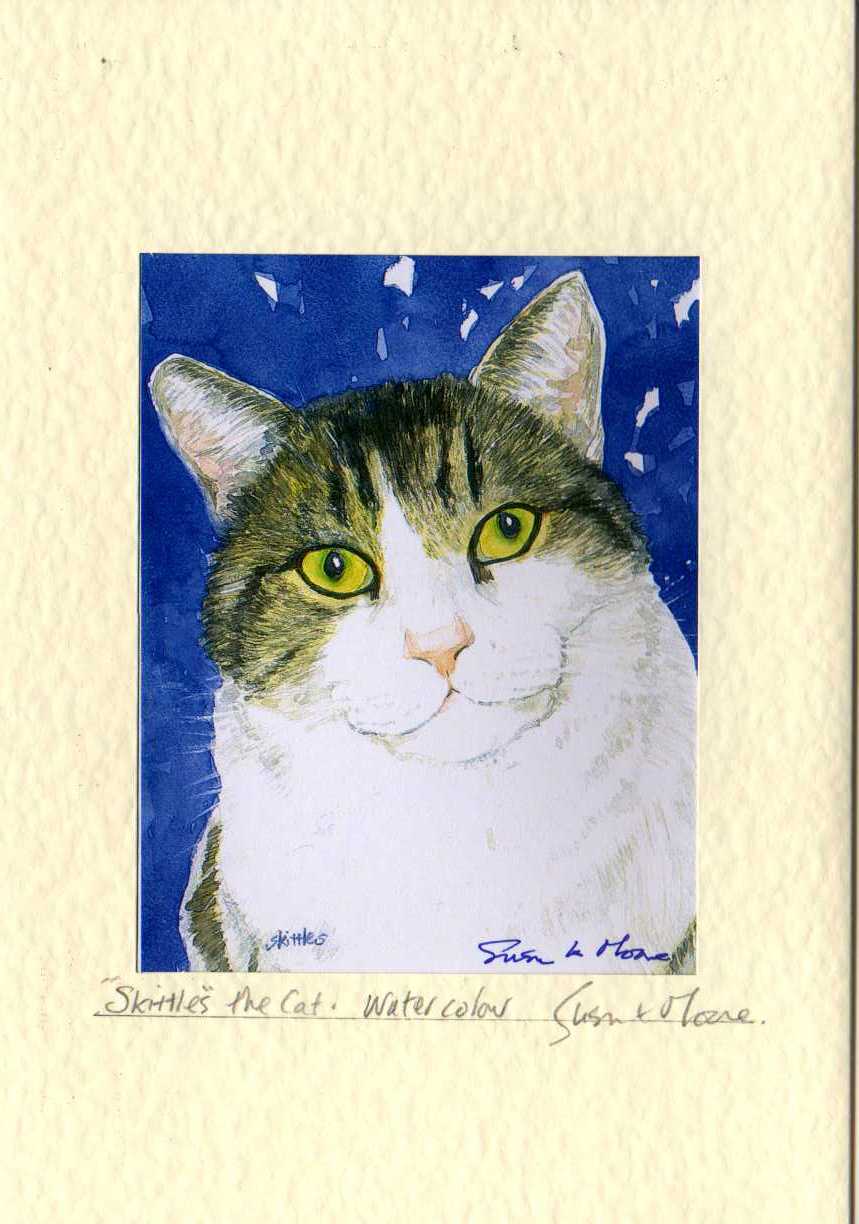 EXAMPLE: SKITTLES THE CAT - print from original watercolour - made into a greetings card. (Commission - sold)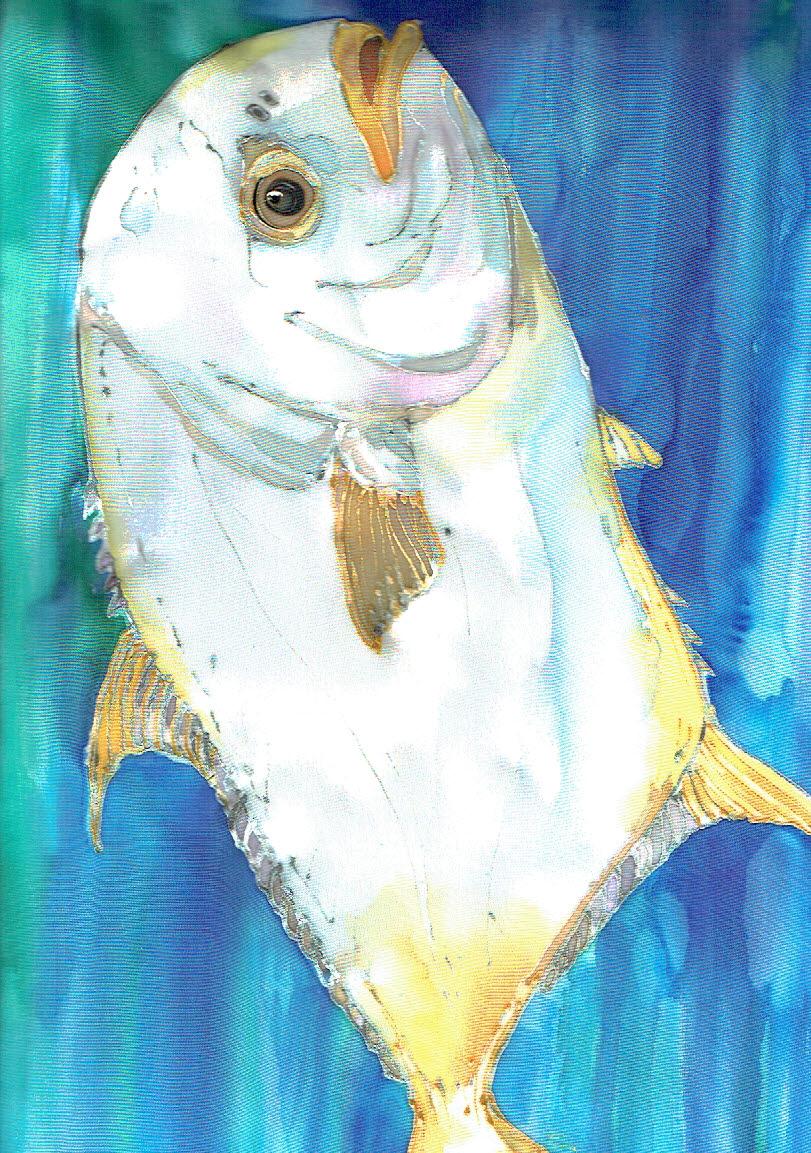 EXAMPLE: FEATURE FISH. This was an unusual commission - to hang in the bathroom. (It hangs the other way round and the painting does have a tail! - couldn't quite get the tail onto the scanned image).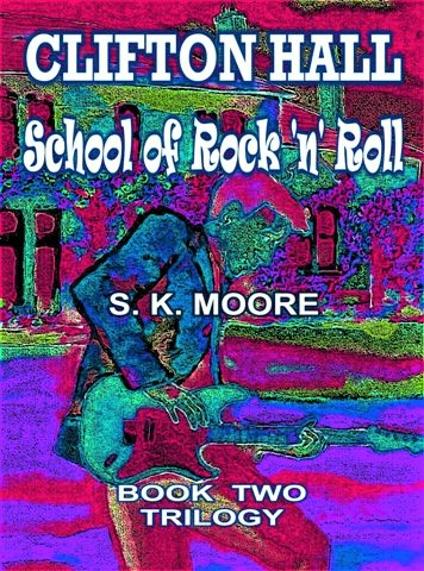 Book Cover design from original silk painting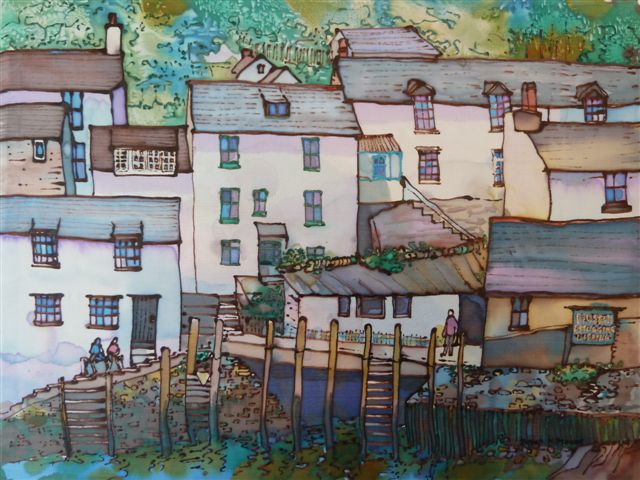 Above: POLPERRO - PAINTED ON SILK. £250 original : mounted & framed (approx 20" x 16").

Below: RACING THE WAVES - OIL ON CANVAS. £350 original : (Giclee canvas limited edition signed print available £90.)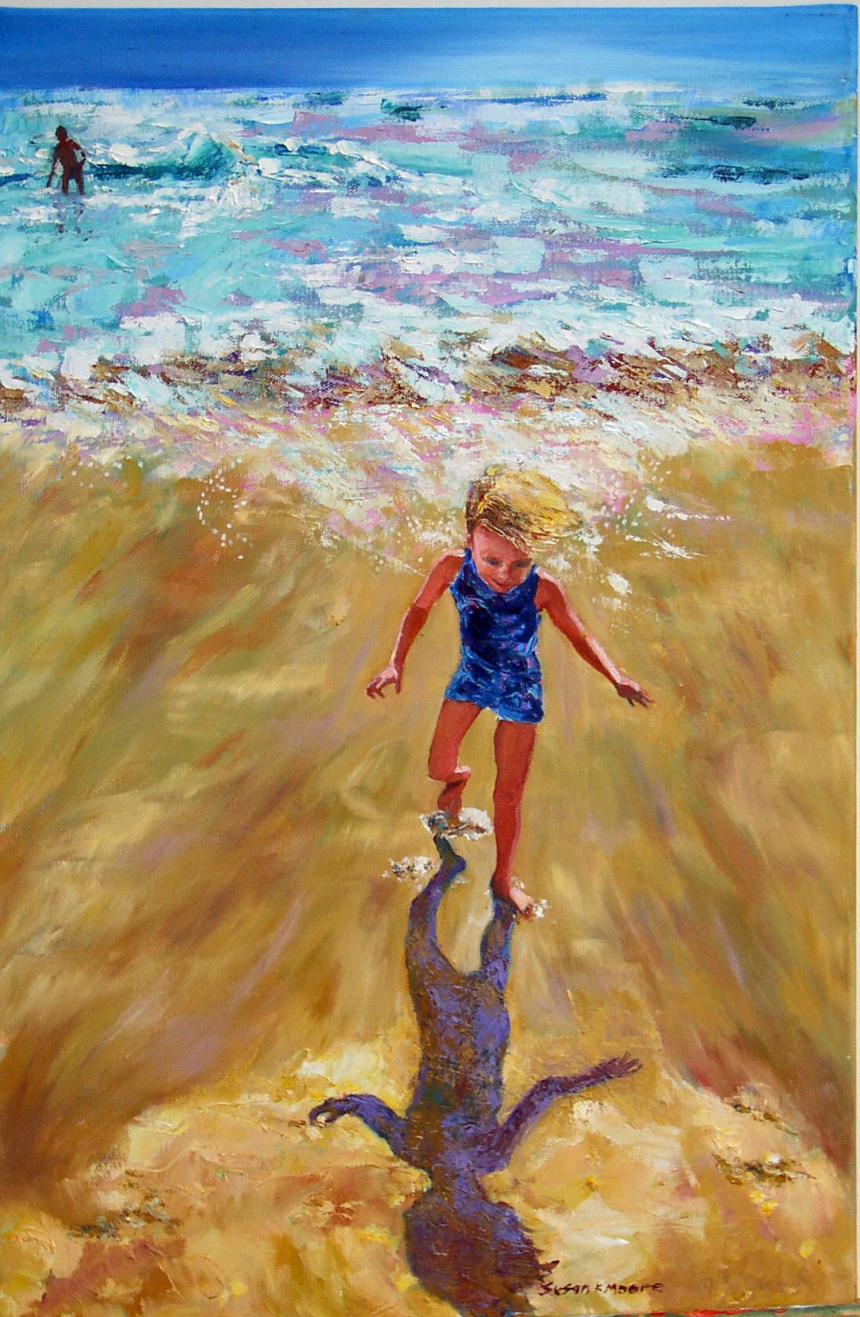 RACING THE WAVES - OIL PAINTING ON CANVAS £350. (Or as Giclee canvas print: £125)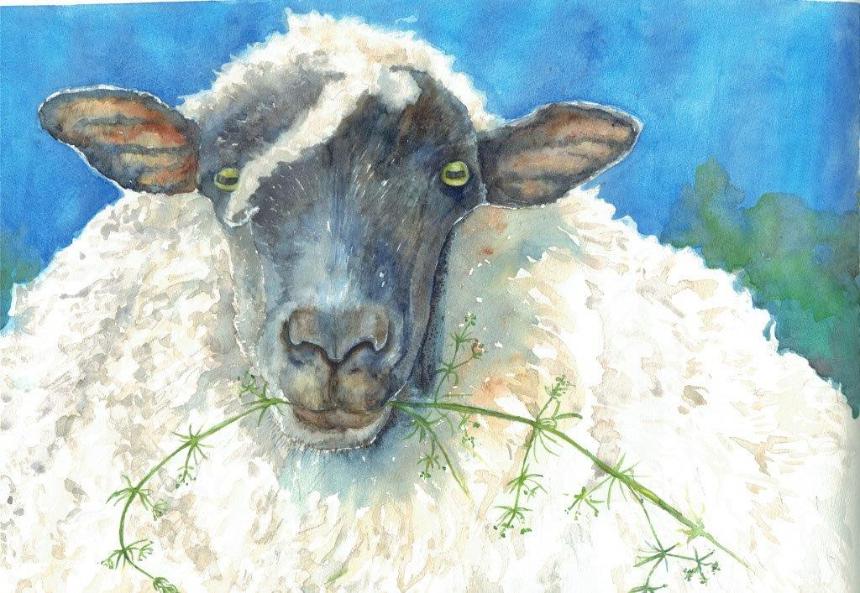 SHEEP WITH STICKY WILLY GOOSE GRASS. Watercolour. £250. (Cards and signed prints available)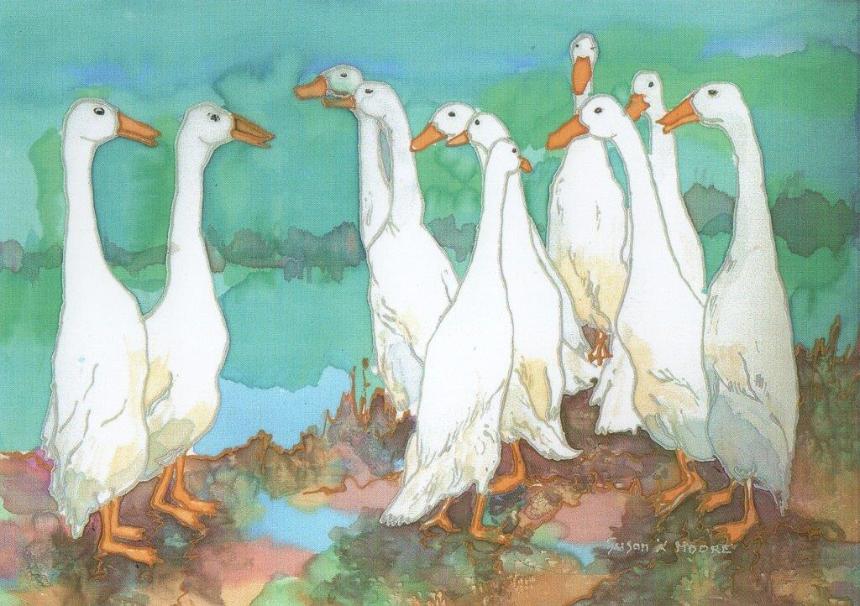 ABOVE: DUCKS IN CONVERSATION Original Silk Painting. Over mounted and framed size approx 20" x 16". £250. (Signed limited edition laser prints available)

BELOW: COVENTRY SALLIE ARMY Original Silk Painting. Over mounted and framed size approx 20" x 16". £250. (Signed limited edition laser prints available)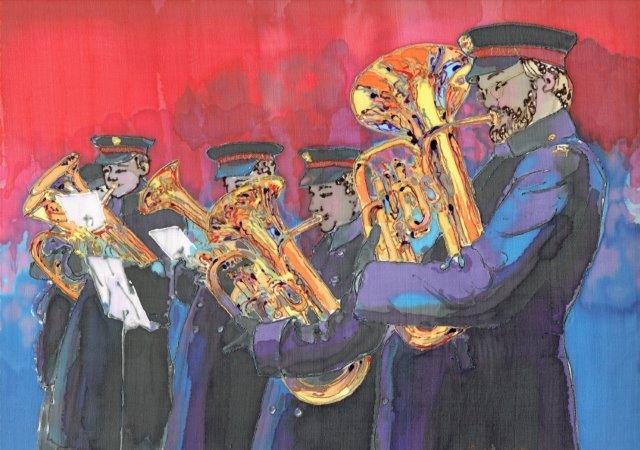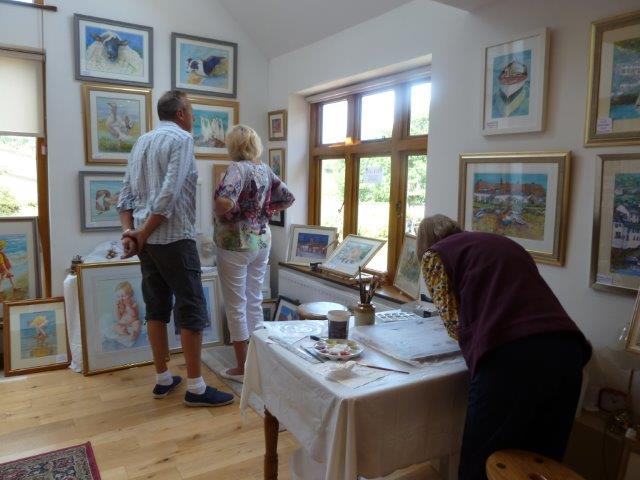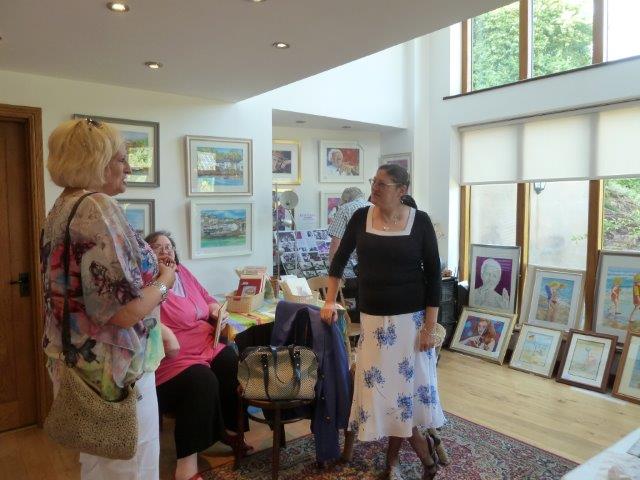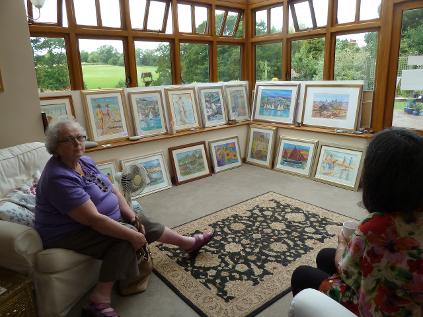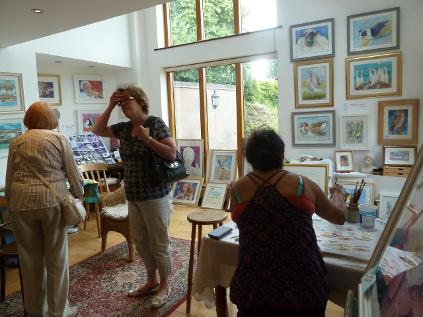 Left: ''Open Studio' visitors having a 'go' at silk painting.

SUSAN USUALLY HOLDS A 'OPEN STUDIO' WEEKEND, ONCE A YEAR.

FOR YOUR INVITATION TO THE NEXT ONE, PLEASE CONTACT SUSAN VIA THE 'CONTACT' PAGE.
I
Approach
I approach my work with a unique perspective. My style and technique are broad and flexible, developed over years of training and experience. The main media I work with are watercolour, pastel, oil and silk paints. I have illustrated several books and 'Walks' for North Warwickshire Council. Have won awards and exhibited widely in Coventry and Warwickshire and at the Mall Gallery in London.