Silk Paintings
Wide range of beautiful and original paintings.Animals, old cars, birds, flowers, landscapes, musicians etc.
Commission your own silk painting. Email or post good quality photographs of what you would like painting. Prices £125 - £350+ depending on size and complexity. No obligation if you do not like the completed work.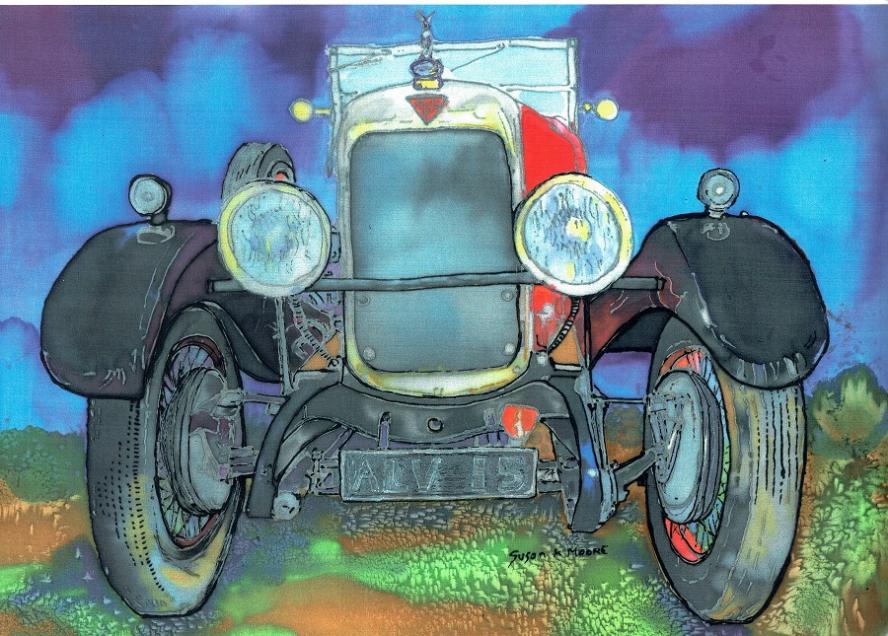 Above: 1929 Alvis car. (I changed the number plate to read 'ALVIS'). The car was on display at a summer fete at Kings Newham near Rugby. £150. Painted on silk. Size unframed approx 40cm x 30cm.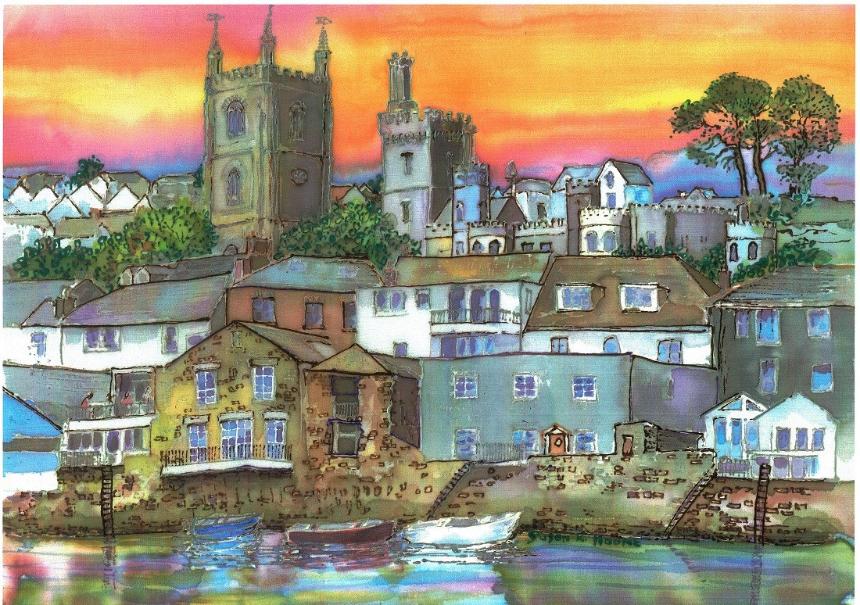 Above: Fowey, Cornwall. Painted on silk. £150. Size unframed approx 40cm x 30cm.
Below: Ballet Dancer. Painted on silk. £175. Size unframed approx 30cm x 40cm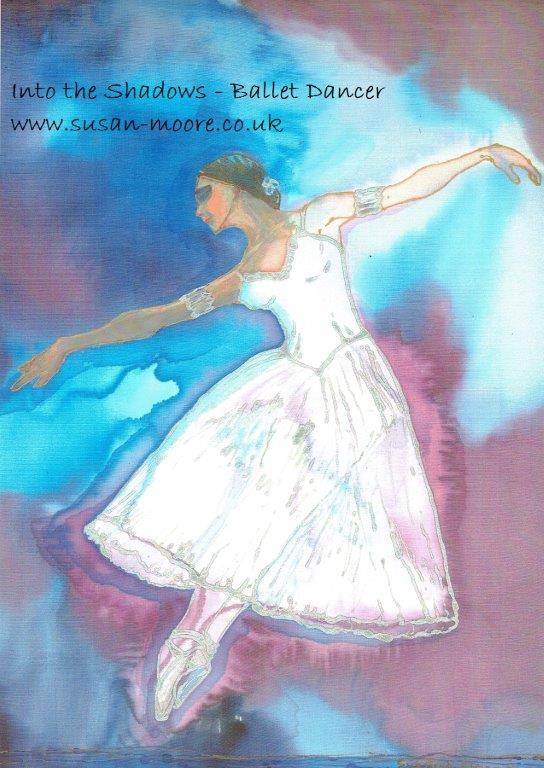 http://wonderstreet.com/susan-6
SILK PAINTINGS.
TECHNIQUE OF PAINTING ON SILK. Instead of painting on paper or canvas, I sometimes paint on pure silk, using special paints. The process is quite long and experimental, with about 50% of the paintings not coming out as I would like, so they are either 'cut-up' to make original greeting cards or sold-off at a lower price. The principle is similar to watercolours. Colour mixing, allowing the colours to run and mingle together except the paint will keep 'running' until they dry-out on the silk. To control this, I use a 'gutta' as a block or work above a very hot radiator !!!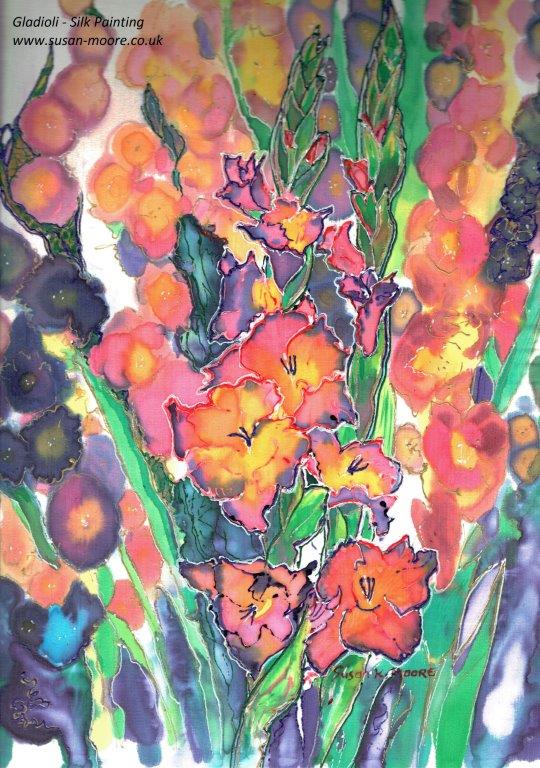 Above: Gladioli painted on silk. £150. Approx size unframed: 40cm x 30cm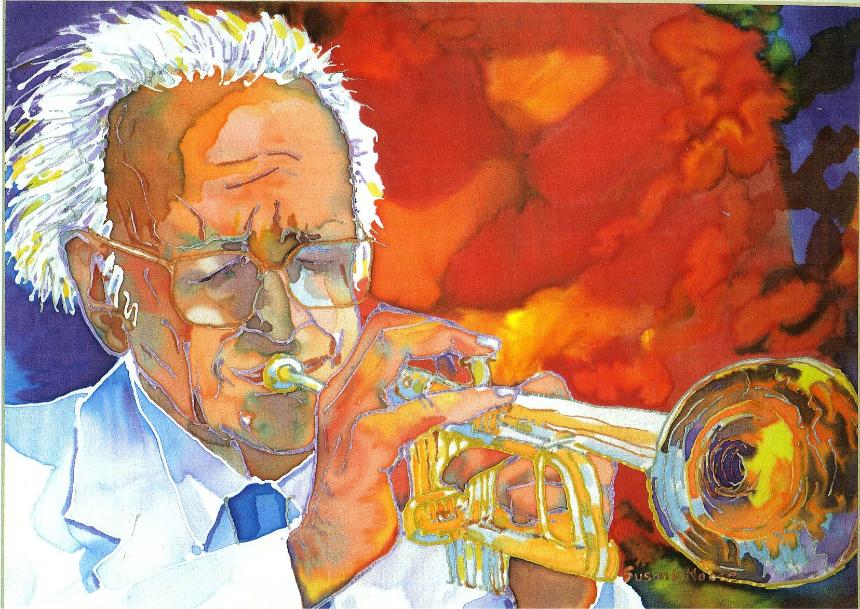 Above: Humphrey Littleton painted on silk. Not for Sale.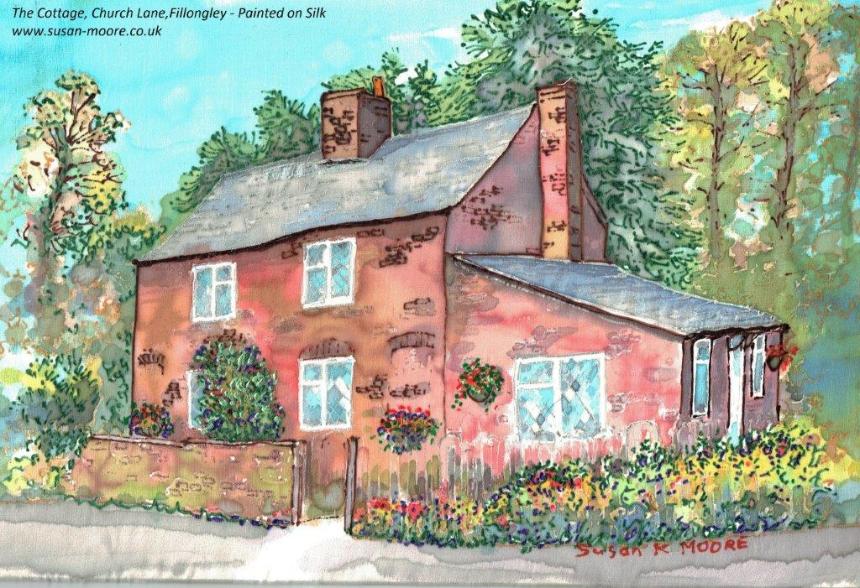 Above: Fillongley Cottage painted on silk. £75. Size unframed approx 30cm x 20cm.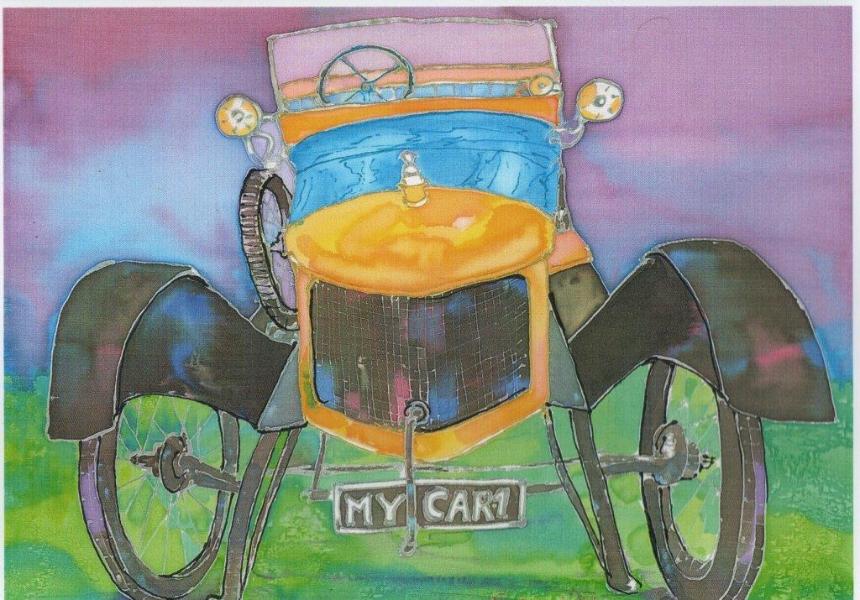 Above: Douglas 10 Car. Silk Painting £95. Size unframed approx 40cm x 30cm.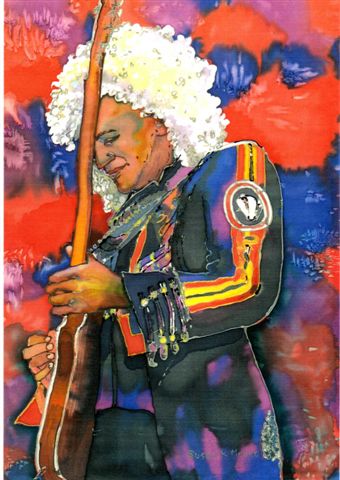 Above: Brian May. Silk Painting. £150. Size unframed approx 30cm x 40 cm.
Humphrey Littleton (above) painted on silk. Signed limited edition laser prints £25 unframed.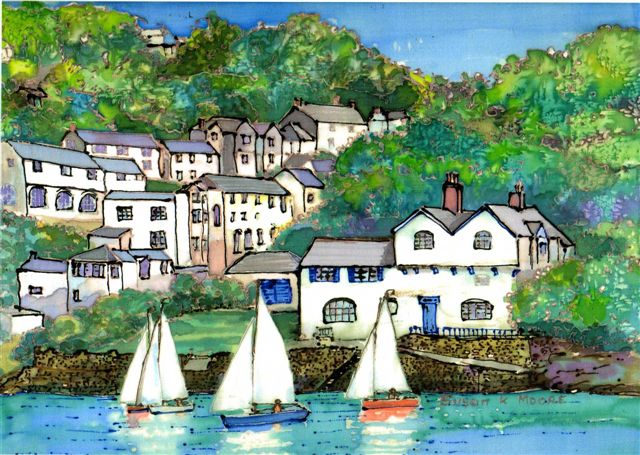 Boddinick, Cornwall. Silk Painting with three sailing boats.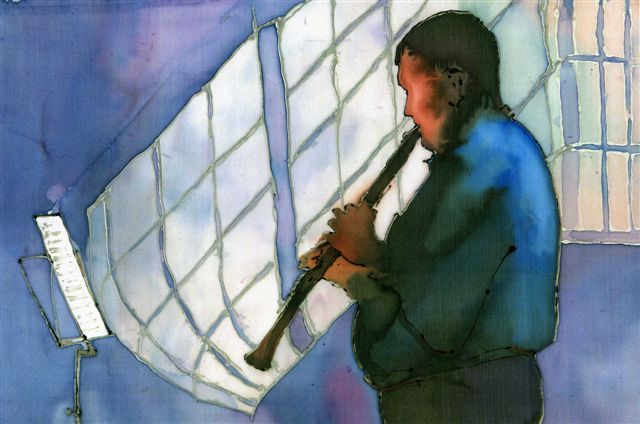 Clarinetist. Silk Painting. £125. Size 50cm x 40cm.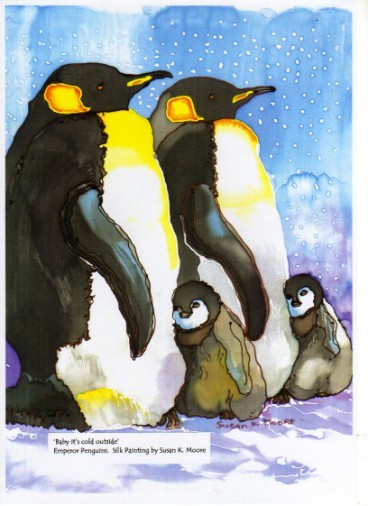 EMPEROR PENGUINS (Baby it's cold outside!) (Sold).
(Below) SOUSAPHONE PLAYER. I saw him playing in a jazz band in Solihull town centre and took his photograph. Limited edition signed prints to order: £25 unframed.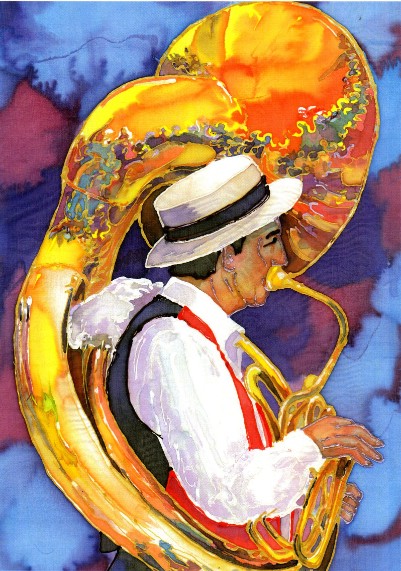 GREEN MAN: (below) Painted on silk. £125.I was at the Earlsdon Festival when I say this musician performing in the street. I took his photograph and then painted him with an imaginary enchanted background.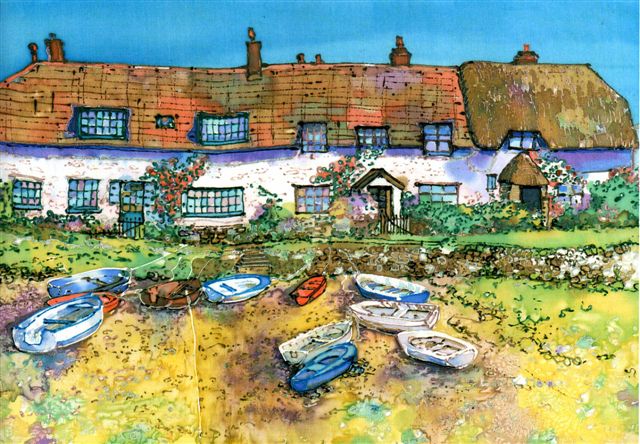 Above: Silk painting sold.
POPPIES: (below)Painted on silk. (sold)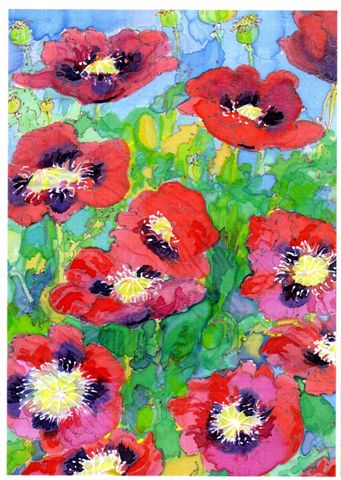 COMMISSIONS ACCEPTED
SAILING OR FISHING Boats: can be painted and 'Named' after someone special. All paintings are 'original' so no two paintings will ever be the same.
Size unframed approx: 40cm x 30cm. (A3)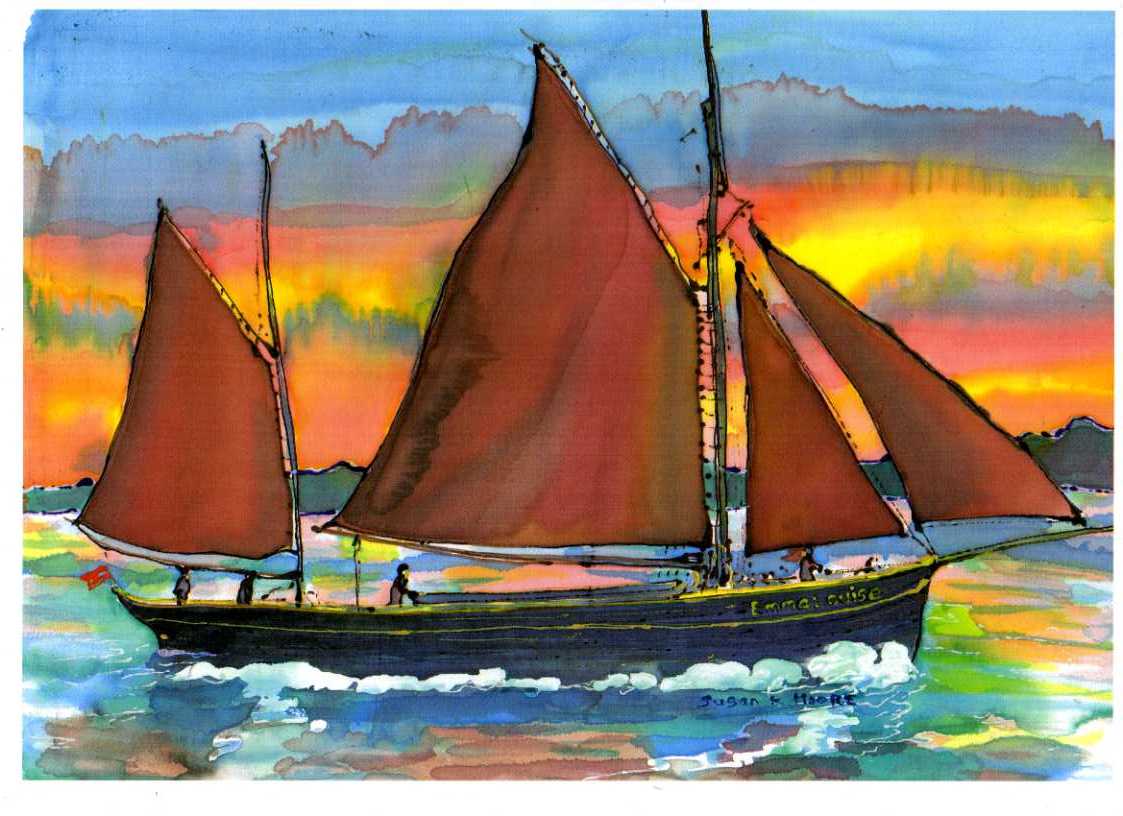 Silk Paintings on fine pure silk. The colours 'glow' and the paintings are quite different to normal methods of painting. The colours are very permanent.
Most paintings are priced between £125 - £850.
Some of the paintings are available as a Limited Edition Signed Prints unframed (when framed 20" x 16").
Commissions accepted.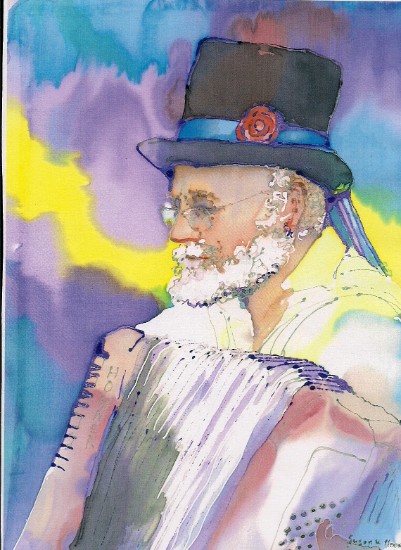 Morris Man (Anchor Man) Silk Painting. (SOLD) size 40cm x 50cm
BELOW: PUFFINS FLYING: Silk painting £75. size approx 28cm x 36 cm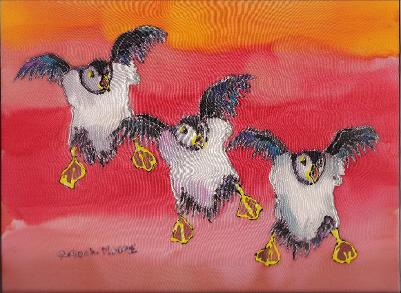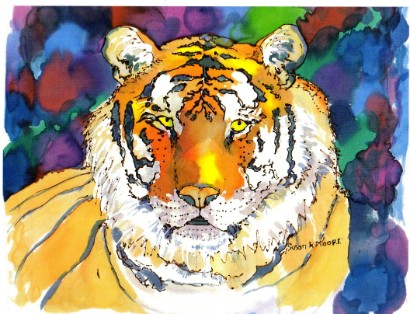 TIGER: Original Silk Painting £85
(Below THOMPSONS CRICKET £75 Silk Painting.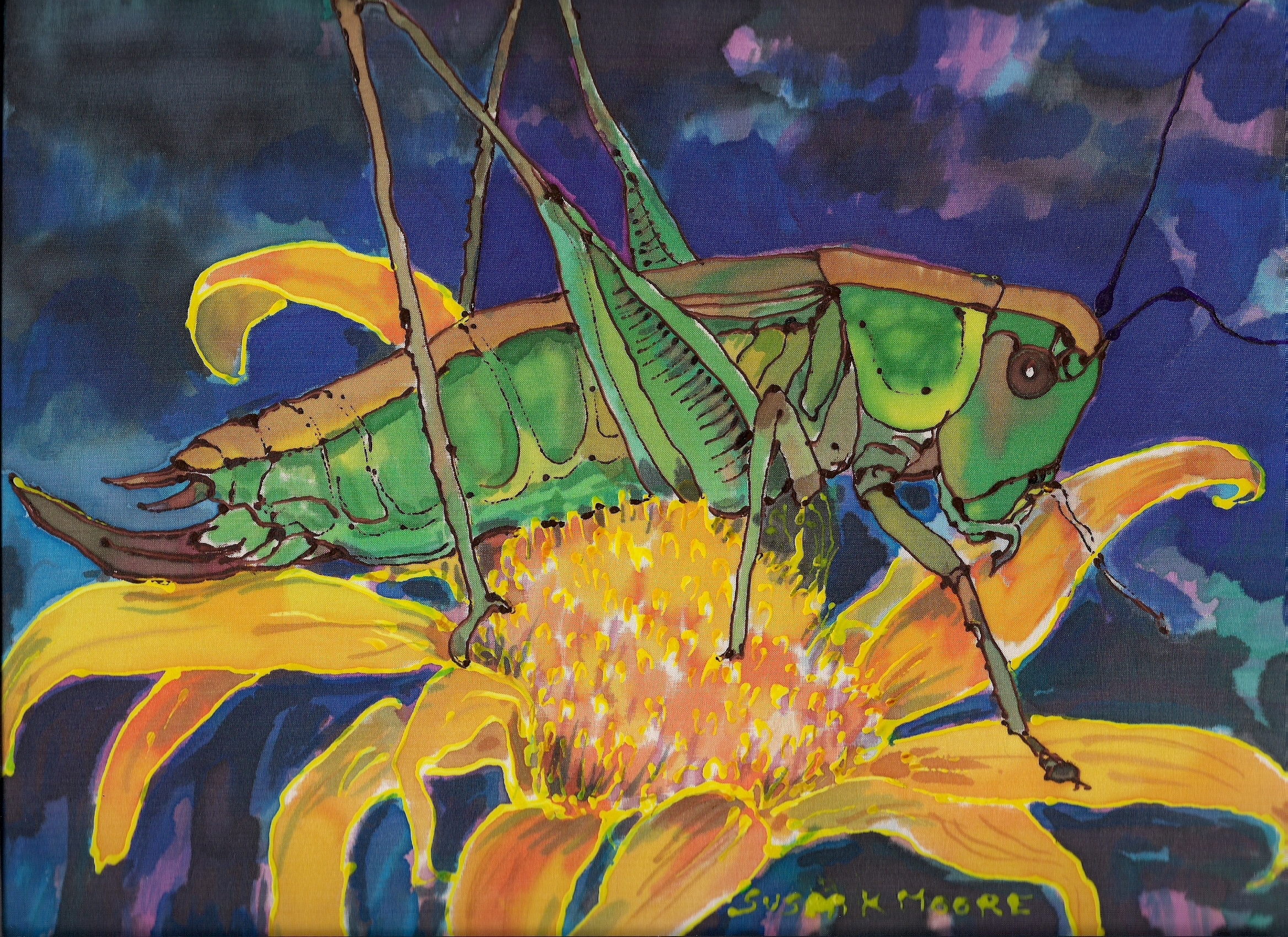 Below: Great Cranes Dancing £75. (size approx A3). Painted on Silk. I found a photograph of a dancing crane and then turned the image round to make a pair, ' and painted an imaginary garden background.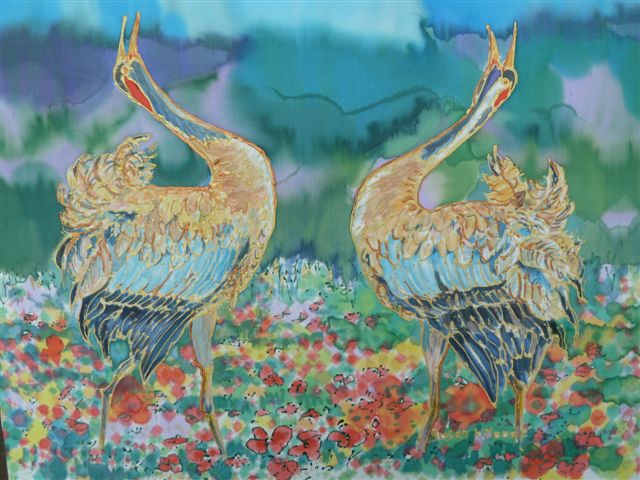 (Below) Brian May painted on Silk. (Note the Badger on his arm.) £175.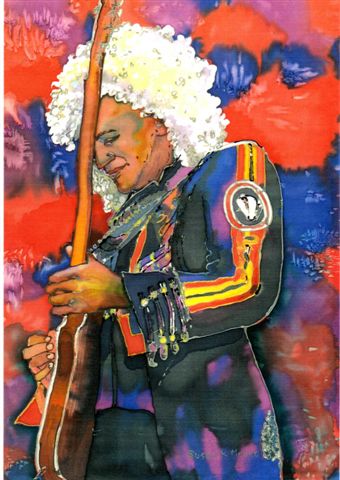 (Below): THE BLUES - this is a study of the Saxophonist playing with Courtney Pine at the Colne Blues Festival, August Bank Holiday weekend 2015. Painted on Silk. £350.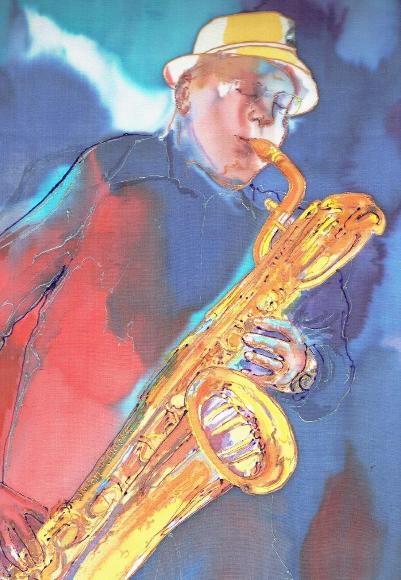 (Below): Daw Mill, North Warwickshire. Was thought to be one of the best coal mines in Europe. They had an underground fire in 2013 and the mine was closed although talk from the miners was that they were planning to close the mine anyway and they could have put the fire out! The land should be reverted back to green belt (as per the planning consent) but plans have been put forward to convert it to a large industrial site. I was permitted to take photographs both before the mine was closed and also after the fire and have done several paintings. (Both sold) but limited edition signed prints are available of the painting below.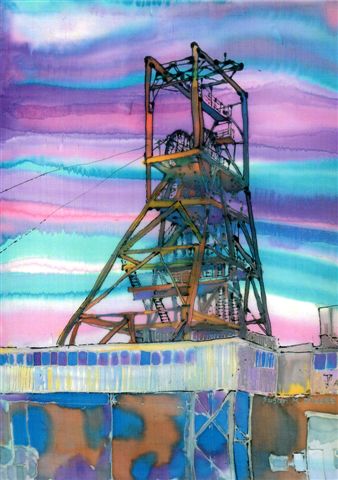 RED SAILS IN THE SUNSET. (above)Painted on silk £125.
COVENTRY SALVATION ARMY: (below) Painted on silk £350. Signed Limited Edition laser prints available to order: £30 unframed.